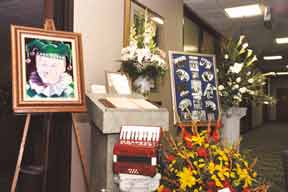 A tribute to Blackie stood at Palm Mortuary on Jan. 2.
By Gregory Crosby
And the show goes on.
Another Friday night at the Bootlegger Bistro at a quarter to 10, everything seems to be in place. The bar is full. Tables are filled with the typical crowd -- a mix of young and old, locals and intrepid visitors, elderly families and younger hipsters, with a smattering of folks who might show up at an extras audition for "The Sopranos." There are the only-in-Vegas sightings: an Omar Sharif look-alike in a full-length chinchilla coat, a hulking punk who resembles Travis Bickle with a diabolical goatee, bleach-blonde lounge performer Jimmy Hopper holding court at a back table.
Up front, just beyond the comfy half-moon booths and tables, the band is laying out. Pianist Tommy Deering, dapper in his purple tuxedo shirt, is playing something low-key but jazzy while the bassist and drummer swing behind. A screen with images of the Chairman of the Board behind the baby grand watches over the scene, as if to say: "This is old school, Clyde." This is the last remnant of the style of entertainment that once dominated the Strip, the last perhaps of Lounge itself, a little show called "Off the Cuff" that for almost three years has revived that spirit of informal song and comedy.
At least, it used to be called "Off the Cuff." The promotional photo of the stars, Sonny King and Charles "Blackie" Hunt, that once dotted the tables of the Bootlegger are gone. But nothing else seems amiss. Deering leans into his microphone and introduces King, who a few moments ago was an old man in a tuxedo, wearing glasses and looking tired, and shuffling near the bar. Now he's transformed -- sort of, he still shuffles -- his scowl replaced by a broad, bright smile tempered with a glint of world-weary defiance, as if to say to the audience: "Oh, you people again?" A tiny cross dangles, silver and black, on his shirt front just below his black tie, as he grabs the microphone -- which doesn't work.
Sonny utters a sailor's curse, tosses the microphone at Tommy and grabs another before launching into (what else?) "There's No Business Like Show Business." King, who spent 28 years as Jimmy Durante's opening act (a fact he reminds his audience of several times over the evening), has to be in his 70s, and truth be told, can't really sing anymore -- the timing is there, but the pipes have rusted out. But that's beside the point here at the Bootlegger, and Sonny doesn't pretend otherwise. After finishing to rousing applause, he scowls and says: "That's as good as I'm getting all night."
Everyone laughs. Another evening of classic lounge at the Bootlegger. Except there's something missing, and it's not merely the presence of Bootlegger owner and former lounge performer Lorraine Hunt, "our singing lieutenant governor," who most nights would be on hand. What's missing is Sonny's foil, Charles "Blackie" Hunt, who passed away four days before in his 70s. Blackie Hunt, comedian and musician, who helped put lounge entertainment on the map with his group the Characters (who had a 14-year run at the Sahara); who married a young singer named Lorraine Perry and later retired from performing to run a popular Italian joint at Tropicana and Eastern; who helped create "Off the Cuff" when the Bootlegger was relocated and expanded; who with his timing and his sense of pure shtick was the perfect counterpoint to King's songs and anecdotes. He is gone.
This is sad enough, but it gets sadder, because Blackie Hunt hadn't performed at the Bootlegger since October. In July, Lorraine Hunt filed for divorce from her husband of 35 years, and though Blackie kept performing, whatever rift had developed between husband and wife had expanded to a chasm. A restraining order prevented Blackie from going anywhere near the Bootlegger.
That rift consumed Sonny and Blackie as well. Rumor had it that not only had Sonny sided professionally with Lorraine against her estranged husband, but the friendship had been a casualty as well.
"Within six months Blackie lost his wife, his restaurant and his act," a Bootlegger regular said. "No wonder he gave up the ghost."
Speculations abound on the reasons for the rifts, personal and professional. Chances are no one will ever know, and that's perhaps as it should be. The private lives of the Hunts remain private. But the question this night was this: Would Sonny acknowledge his recent partner's passing? Would the hatchet be buried, if for one night, and a tribute offered?
After all, it was the chemistry between Sonny and Blackie, along with a dash of Lorraine, that made "Off the Cuff" so appealing. They were the reason so many lounge performers, from the most exalted to the young and obscure, made the trek out to the south Strip. Week after week, the cream of lounge talent would be prevailed upon to get up and do a song or two, along with -- and this was a big part of the show's anything-goes charm -- various amateurs, usually someone's aunt who once did summer stock or a kid who had misplaced dreams of being Harry Connick Jr.
Sitting there as Sonny launched into another song, so many memories of nights at the Bootlegger arose in my mind, nights when we dragged friends and visitors out to catch this echo of the old Las Vegas: the night the legendary Dick Contino got up and played a 45-minute accordion medley. The night the Dean Martin impersonator from "The Rat Pack Is Back" got up and did a spot on Sinatra instead. The way Blackie would do anything for a laugh, walking out in the middle of Sonny's monologues wearing lederhosen, or a sombrero, or simply a hilarious, pop-eyed expression. The fact that Lorraine and Blackie did a touching version of "Moon River" every show, and once even did it again after we asked them for an encore for a friend who arrived late.
Suddenly, as more applause swirled around Sonny, the Travis Bickle look-alike yelled out, for no apparent reason, "Blackie!" The room got a little quiet. Sonny looked in that direction, feigning that he hadn't heard what had been said. Maybe he didn't. Sonny's hearing is actually not so hot anymore. Before the gentleman with the mohawk could yell it again, Sonny took one look at him and whapped him with a shtick: Patting his mouth, Sonny let go with some Indian whoops.
The tension diffused, Sonny launched into "I'm Confessin' That I Love You." The show continued, interrupted only by Sonny beginning each new song with: "Let me tell you about a friend of mine." We hung on the edge. Would this be the moment, the tribute? No. Kind words for Dean Martin, Jimmy Durante.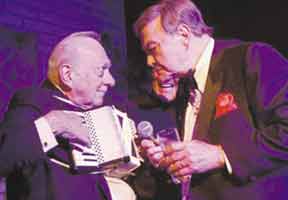 Blackie (left) and Sonny
No Blackie.
At one point, Sonny even talked about how "Off the Cuff" got started, when "Lorraine asked me to do it." Blackie's contribution, it seemed, had been airbrushed out.
"Ladies and gentleman, I'm having a wonderful time," joked Sonny. "I wish I was here." The show goes on, and the crowd that night was having a good time. But for anyone who enjoyed the marvelous spectacle of two veteran performers, men who otherwise would be sitting around a retirement home, recall and revive the classic Vegas lounge show -- well, it's just not the same.
Poor Blackie. As F. Scott Fitzgerald observed, "There are no second acts in American lives." Except in Las Vegas, where second and third acts run as long as entertainment directors have showrooms and lounges to fill. But the most unlikely second act of all was the Vegas lounge show itself, and for that unexpected encore, enacted every Friday and Saturday night at the Bootlegger these past two and a half years, we have Lorraine Hunt and Sonny King to thank