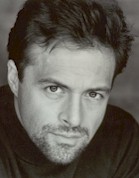 In the last couple of years, the monster hit American Idol has led the way for a handful of additional televised talent competitions.
The media exposure garnered by someone seeking a career in show business, whether bad or good, can change the life of the participant - maybe for minutes, maybe for a lifetime.
Take Joey Gian, for example. In 1985, the handsome and charming Gian was a competitor in Male Vocalist category during the third season of Star Search. He did well for himself, winning five weeks in a row and winding up in the semi-finals but it was singer Kenny James who won the big money. Gian has not been idle. Over the past 18 years, he has accumulated an impressive list of credits.
As an actor, Joey Gian, or Joseph Gian or Joe Gian, as he is sometimes billed, has appeared in more than 100 episodes of television, including numerous appearances on the FOX network's police drama, DEA-Special Task Force, and Aaron Spelling's Beverly Hills 90210; co-starred as a series regular with the late John Ritter on ABC's Hooperman; and portrayed mysterious detective Tom Ryan on CBS's long-running night time drama, Knots Landing. There were also guest-starring parts in L.A. Law, Lois & Clark, Highway to Heaven, It's a Living and Pamela Anderson's V.I.P. In October, Gian made a guest appearance on ABC's Life With Bonnie. Portraying cruise ship entertainer Joey Knuckles, Gian had the opportunity to sing, as well as act, with the show's star Bonnie Hunt and fellow guest Ruta Lee.
Combining film and music, some years back, Gian appeared in two Diana Ross music videos - Eaten Alive, directed by Michael Jackson, and Experience, directed by Barry Gibb. Ross specifically chose Gian to play her leading man in those videos. Movie roles also dot this multi-talented man's resume, with 1988's Mad About You, directed by Las Vegan Lorenzo Doumani, among them. In MGM's Return to Me, a 2000 motion picture featuring writer/director Bonnie Hunt along with David Duchovny, Minnie Driver, Robert Loggia, Jim Belushi and Carroll O'Connor in his final role, in a bit of typecasting, Joey Gian plays himself.
Not only does he sing in the film, two of his original songs, What If I Loved You and Here I Am, are included in the movie and on the soundtrack. Gian the songwriter is very pleased with the fact that Hal Leonard, author of The Best Songs Ever, included What If I Loved You among 46 favorites from contemporary films in this latest , Music From the Movies.
Although acting may provide fulfillment and a paycheck, the Florida native's real love and interest has always been music. As a singer, he has performed in nightclubs and showrooms from coast-to-coast, among them House of Blues, RIX, The Bitter End, Chasen's, the Roxy, Whiskey, Harrah's at Lake Tahoe and Stone Pony.
Only months after the death of the man many consider to be the world's greatest entertainer, Gian was invited to participate in a Las Vegas tribute to Sammy Davis Jr. Gian shared the Rivera stage with Liza Minnelli and had the opportunity to meet Davis's widow, Altovise.
He has also worked with Don Rickles, jazz legend Little Jimmy Scott, Bob Newhart and one of his idols, Ray Charles. In July of 2001, Gian was invited to sing at Milton Berle's last birthday party. About six months ago, Joey Gian changed zip codes, leaving behind his Southern California 901-something for Las Vegas. Desiring to devote more time to his singing, Gian took a one night a week engagement at the popular Bootlegger Bistro. He has used the past months to acclimate his voice to the desert climate and get acquainted with local musicians.
The schedule allows Gian the freedom to leave Las Vegas for other acting and singing jobs, including his annual appearances at Los Angeles's San Gennaro Festival. Ideally, the exposure at the Bootlegger will lead to other Las Vegas opportunities for Gian. He is working on a couple of concepts - one using music and comedy in a small-cast revue format - that he hopes will interest some savvy entertainment buyer.
Gian loves a great song, especially with lyrics that speak of faith, love and romance. See and hear for yourself at the Bootlegger Bistro, 7700 Las Vegas Blvd. South, Wednesday nights from 9 pm to midnight.