| | |
| --- | --- |
| VEGAS VIBES | by Z. Z. Zorn |
THE CAST HONORS LORRAINE HUNT-BONO AND DENNIS BONO By Z.Z. Zorn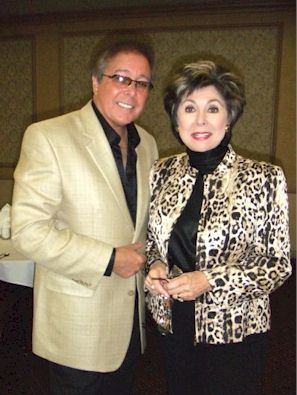 The Cast Inc. held a lovely luncheon at The Italian American Club on May 1, honoring Lorraine Hunt-Bono and Dennis Bono for their outstanding contribution to the entertainment community. As it had been a while since a 'Cast'get- together, friendly mingling, kissing and hugging started the event as good friends greeted each other. Music filled the air as a great three-piece combo consisting of Linda November, keyboard, Artie Shroeck, drums and Ken Seiffert on bass played. throughout the event.
A really delicious lunch was served consisting of salad and entrees of Orange Roughy and Chicken Marsala served with roasted potatoes and green beans.
After lunch, President Tony Sacca started the awards program by introducing the Cast Inc. board members. He also acknowledged Michaelina Bellamy as an honorary board member. Micaelina delighted the audience with a song. Tony Ruivivar (Society of Seven) came to the stage to speak about the importance of the organization. He said he was thrilled and proud to be part of an organization of entertainers that help entertainers. Tony said that every time a major event happens entertainers are always there to help, but this is the only organization in Las Vegas that helps entertainers when they get sick, or need a wheelchair or help with mortgage payments. All this is done anonymously. It was mentioned that this organization, only two years old, has donated almost $30,000 to help entertainers. Future 'Cast' honorees were mentioned such as Little Anthony and the Imperials and Lamont of the 5th Dimensions. Tony said that although Xmas is months away, the organization wants to send as many Xmas baskets as possible to help entertainers who are down on their luck. Tony also told us that the late Don Ho was once a spokesman for the Flamingo Hotel. The Mayor of Hawaii has designated a square in Hawaii for a statue of Don Ho and $250,00 is needed. There will be a golf tournament in Hawaii and ½ will go to the Don Ho fund. Tony suggested Don Ho for the Las Vegas Walk of Stars in the future.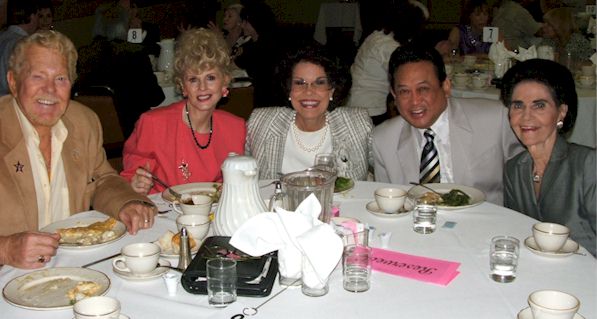 New members who joined this day were acknowledged. They were harpist, Kathy Kavanaugh and Carolee and Ed Swindle, who is involved with the Las Vegas Walk of Stars. Ed Swindle came on stage and said that the October nominee for the Las Vegas Walk of Stars will be Evel Knievel. Ed said that the Las Vegas Walk of Stars area has been designated on Las Vegas Boulevard from Russell Road to Sahara Ave. He said that there have been as many as 700 people turned down, who have wanted to have their star placed on the Walk of Stars. It is only people that truly make a difference in Las Vegas that are accepted.
Ronnie Rose, singer who performs at The Bootlegger was called onstage and sang "Unforgettable." Tony Sacca then introduced the honorees, Lorraine Hunt-Bono and Dennis Bono. Dennis lovingly spoke of Lorraine's accomplishments and integrity as Lieutenant Governor. He said he was offended by the press calling her a former Lounge Singer when she was running for office, as if that was all she could do. However, she was able to have Nevada become the only licensed state to bring tourism from China and have a tourism office open for Nevada in China. At a dinner in China with government dignitaries she sang, "Getting to Know You." After that, the tourism deal was signed. Lorraine said, "don't underestimate the power of music throughout the world." She then sang that song for us. Lorraine told us she was a singer with the Landmark Hotel/Casino when it opened in 1969 and it was imploded while she was Lieutenant Governor. So, she says she was responsible for opening and closing The Landmark.
Dennis Bono has been doing a live show with celebrities and headliners for seven years, every Thursday at SAMS TOWN. This show also plays on radio in eleven States. Dennis said that Las Vegas hotels neglects audiences over 55 as they now cater to hip one-name nightclubs such as Rain, Pure, Tryst, Taboo and such. His show brings back vintage Las Vegas that reminds us what made Las Vegas the entertainment Capital of the World. Dennis jokingly said there should be a nite club for seniors that opens at 4 p.m., dancing at 6 p.m. and ends so seniors can go home at 9 p.m. and the nite club should be called "Gas."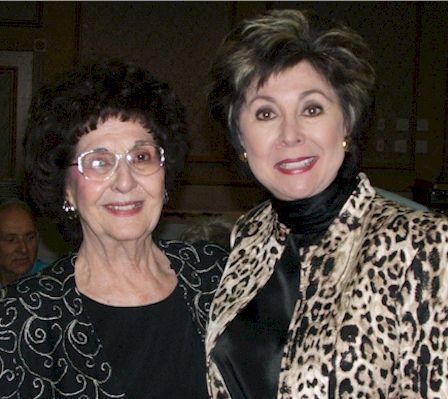 He then sang "Just in Time." Lorraine and Dennis got together to do a duet ala Steve and Edye (who are their next door neighbors) by singing "Our Love Is Here to Stay."
Lorraine's mother Marie Perry (age 90) who originated The Bootlegger was introduced. Lorraine is very proud of The Bootlegger that has vintage Vegas entertainment every night. (Board member Freddie Bell on Saturday)
Board member Ron Garrett who came late closed the event. He facetiously said he was out looking for work. Ron is the entertainment director of the SAHARA HOTEL that has just been sold.
A great afternoon event, enjoyed by all included. Jillian Williams, wife of the late great Joe Williams, Jr., Regent Thalia Dondaro, Attorney Mike Schafer, singer Teddy Kaye, Arleen Gibson, Denny Jones, former legislator Lou Toomin, John Flood, Dr. Ed Hoffman and wife, Janie Resnick, Chick Hughes, former Mrs. Senior Nevada Marlene Koppenhaver, singer Loretta St. John, Billy Hinsche (former musician with Dino, Dezi and Billy and the Beach Boys) commercial model Jeff Bostrand and Patti Lanuto among others.
---
THE CAST INC HONORS SOCIETY OF SEVEN By Z.Z. Zorn
The Cast Inc. held their luncheon event on Tuesday, November 7 at the Italian American Club. Apparently guests at the event had already voted as it was Election Day and the place was filled. What a day it was! Good food and mingling with friends, but the piece de' resistance was the incomparable Society of Seven. The entire group was there with many of their friends and family. Lain Misalucha's sister and hubby even came from The Philippines for the event.
The afternoon activities started when Ron Garret came onstage and talked about Tony Sacca being honored and roasted by Club Italia. Garret quipped that he had been at the garage elevator at McCormick and Schmidt's watching the cat go. Tony Sacca then introduced the Cast Board and said they were planning future roasts and other exciting events.
Ed Swindle then came onstage to tell the audience about the Society of Seven being awarded a star on the Walk of Stars on November 28 at The FLAMINGO.
Society of Seven founder Tony Ruivivar and original comic of the group Bert Segum came onstage and individually introduced each member of SOS as they came onstage. They are called Society of Seven, but have an eighth member, the fantastically talented, Lani Misalucha who sings in 5 octaves. The group then beautifully sang 'Swing Low, Sweet Chariot' accapella. The audience loved that, but the best was yet to come as individually, the amazing talents of each of the group were shown as they entertained. Lani enthralled and had the audience on their feet with her beautiful operatic aria.
Tony founder of SOS talked about how great The Cast organization is about entertainers helping entertainers and about the event that had many wonderful artists singing "That's What Friends Are For. We were then treated to Loni, Mark and Vince singing, "That's What Friend's Are For" in the voices, props and characterizations of Dionne Warwick. L.L. Cool J., Barry Gibbs, Gladys Knight, Stevie Wonder, Babra Streisand, Elton John and Whitney Houston. (An aside, my cousin David Wild was the writer for that original event). Again the audience was on their feet, but there was more. They then did a medley of Broadway Show Stopper songs from Phantom of the Opera, Man From LaMoncha's Impossible Dream and This Is The Moment.
This was only a small segment of their entire show at the FLAMINGO. I have seen them many times and always enjoy them more each time. I'm sure anyone who was in the audience that day and never saw their entire show will run, not walk to see their show at the FLAMINGO. Everyone was thrilled at their performance and excited to have the opportunity to meet and take pictures with them afterwards. They are certainly an asset to our entertainment industry.
---
The Cast Inc honors Bill Medley
by Z.Z. Zorn
On Monday, September 11, The Cast Inc. honored the incomparable Bill Medley of the Righteous Brothers at a gala event at the SAHARA HOTEL.
Guests were dressed to the nines and enjoyed cocktails, dinner and dancing to music provided by the 10-piece Benny Bennet Orchestra. Lovely programs designed by Michaelina Bellamy were at each table.
After dinner Michaelina started the program by singing, "God Bless the Child" with the orchestra. Then, Tony Sacca, president of The Cast Inc., asked the audience to bow their heads in silence for a few moments to remember to pay tribute to those who died on this day of September 11.
Tony talked about the mission and achievements of The Cast Inc and introduced Gene Sironen and Doug Masters. If imitation is the sincerest form of flattery, then Bill Medley must have felt complimented as impersonators Gene Sironen and Doug Masters looked and sounded as the Righteous Brothers. Solo tributes to Bobby Hatfield singing "Unchained Melody" and Bill Medley singing, "You've Lost That Lovin' Feelin' received a standing ovation. Sironen and Masters as the Righteous Brothers also sang "Little Latin Lupe Lu," and "Rock and Roll Heaven." Sironen and Masters have appeared periodically since 1994 as the Righteous Brothers in "Legends in Concert" at the Imperial Palace. In 1995 they received accolades from Bill Medley and Bobby Hatfield who came to the IP and watched them perform in "Legends." Medley said, "These guys are so good, it's spooky."
A special part of the evening was a video put together by Tony Sacca and Steve Lippia of the Righeous Brothers interviews with Tony Sacca from years past. The video also showed the Righteous Brothers performing and Bill Medley performing at the current time without Bobby. Bill now performs with his lovely daughter McKenna who was there along with Bill's wife and other members of his family. A special guest sitting at the dais was Cook E. Jarr.
I have a special connection with Cook E. Jarr, as he came to Las Vegas to perform at the Sands lounge the same week as I did in 1982. In fact, at that time he was known as Cook E. Jarr and the Crumbs. One of the Crumbs, Phil, lived in the same complex as I, and I became a Cook E. Jarr and the Crumbs regular at their shows.
I also had the pleasure of meeting Bill and Bobby Hatfield backstage at the Desert Inn when my friend Ronnie's daughter Robin was one of their backup singers.
Lena Prima daughter of Louie Prima was then introduced. She spoke about her father and the Louie Prima Award for outstanding achievement in the entertainment industry that she and her mother created. Louie Prima made Las Vegas history by being one of the most outstanding Las Vegas lounge performers. Louie's daughter Lena is keeping that legacy alive with her show "Louie Prima, That's my Dad," and the Louie Prima Award. Lina introduced Bill Medley and awarded him the first LOUIE PRIMA AWARD.
Bill Medley spoke about how he and Bobby Hatfield originally got together in 1962. At that time they were 'Rock and Roll.' performers. Frank Sinatra brought them to Las Vegas in 1965. They were playing the lounge at the Sands when one night Sinatra became sick and they were asked to perform in the showroom with Count Basie and Quincy Jones. As they were 'Rock and Roll' performers, they were so surprised and thrilled. Bill said he had also worked with Lena's Mom and Dad at the Sands. Bill advised entertainers that there is fine line between "Reality and Oblivion" so go after your dreams.
Mayor Oscar Goodman sent a proclamation making the next day, Sept 12 "Bill Medley Day."
Tony introduced the Cast Inc. Board of Directors and then all Cast members were asked to come up to the stage. Picture taking along with Bill Medley and his family ensued.
A grand evening was enjoyed by all.
---
THE CAST INC. PICNIC AT HARTLAND MANSION Sunday, August 6, 2006
The Cast Inc.'s annual picnic was quite different from what picnics are usually about. No hot sun, mosquitos, winds or dirt on your shoes, this year's picnic was held at Toni Hart's beautiful Hartland Mansion. Benny Benett's 20-piece orchestra played throughout with Artie Shroek and Linda November taking turns singing. The stage surrounded an extraordinary indoor pool. Picnic type food, and dancing was enjoyed by guests who were seated at round well-appointed tables.
Guests having a great time were: Gloria and Don Hill of the Treniers, Society of Singers lovely Karen Ruvivuar and her mom Ethel Walker. Karen told me the SOCIETY OF SINGERS will begin performing at the FLAMINGO on August 16, Arleen Gibson, Chick Hughes, Tony Sacca and Flower, Loretta Saint John with brother Dennis Baker (Loretta's manager) and wife Cheryl who are new Las Vegas residents. Grant Griffith and Poupee Boccaccio were seated with Linda Harris and Danny Colleran who became a life member of The Cast Inc. that day. The great Babe Pier was also seated with them. Babe will be appearing at P.J. McRae's (formerly Club Monico) on Flamingo on Wed. Aug. 23 from 9 p.m. to 1 a.m. with special guests and dancing to the music of Joe Darro.
Familiarity and mingling delighted guest as they visited each other while munching on snack food and cocktails.
Hot dogs, Hamburgers, fried chicken, beans, salad, cole slaw and potato salad along with all the trimmings and yum, yum desserts and coffee completed a tasty meal.
Tony Sacca gave out the news that Frankie Randall has stepped down as President and Tony is now the new President of the Cast Inc whose purpose is for entertainers to help entertainer in need. He said that this year the organization has helped five different entertainers who were in need. Tony read a letter from Buddy Greco and Lezlie Anders who now reside in Palm Springs and own a nightclub. Previous picnics were always at their ranch here in Las Vegas. They miss us, love us and invite us to visit them.
. As this was also a membership drive, members were asked to renew their membership and new benefits and events for members only were announced to encourage new membership. Michaelina Bellamy (fabulous singer), spoke about special events that will be for members only such as: "An Evening with Lena Prima" (the daughter of Louie Prima) and "The Early Days of Rock & Roll" with Rock & Roll legends Freddie Bell of "Freddie Bell & The Bell Boys" and Don Hill of "The Treniers."
Tony recognized the Board of Directors and called them to the stage. They were: Bella Meese who spoke about membership benefits, Ron Garrett, entertainment director at the SAHARA who has been so helpful to the organization, Judy Coco and Freddie Bell and Entertainment director Artie Schroeck who spoke about The Cast Inc..'s first Louie Prima Award evening event on September 11. The Louie Prima Award will honor Bill Medley for his contribution in making Las Vegas what it is today. Board member, Steve Lippia was unable to attend as he was on tour.
Other guests enjoying the afternoon were: Marvin Lashever, JoAnn Titus, Ed and CoraLee Swindle, former Miss Senior Nevada and dancer, Marlene Koppenhaver, Teddy Kaye, Robert Ensler (Dean Martin, Donald Trump and Bobby Darrin impersonator) and Steve Rossi looking good in orange. Steve said his book, 'Stand-Up Comedy for Wannabe Comedians' will be out soon. Latecomers were candidates for political office, Lorraine Hunt with hubby Dennis Bono, Dr. Lonnie Hammergren, and Lou Tooman.
Many thanks to Toni Hart for her generosity in offering her exquisite domain for this event.
---
March 2006
The Cast Inc., an organization of entertainers helping entertainers, held their luncheon event at a new place and new day. The theme for the event was "The Next Generation" presenting the talents of three late-great entertainers off springs, Roy Hamilton Jr., Lena Prima and Freddie Eckstine. Held at the Italian American Club, an Italian buffet was enjoyed by all. During lunch, recordings by fabulous classical singer, Grant Griffith were played as well as music supplied by the wonderful trio of Bob Saxe, bass, Artie Schreck, drums and keyboard by "meow lady," the lovely and talented Linda November.
Ron Garrett, board member and entertainment director of the Sahara Hotel acted as M.C. I didn't know he was such a stand-up comic, but he sure did that well. He proudly told the audience how the Casbar Lounge has won awards, as `Best Las Vegas Lounge' and that Lena Prima, Freddie Eckstine and Michaelina Bellamy were a large part of that happening. The three 'Next Generation' performers, accompanied by the musical trio of Saxe, Schreck and November, sang songs in the inimitable style made famous by their celebrated fathers. Roy Hamilton Jr., dressed to the nines, sang 'Ebb Tide. Tony Sacca jumped onstage and interviewed Roy, who said his father, was not only a marvelous vocalist and lead singer for Duke Ellington, but he had a great influence on Elvis Presley and Sam Cook. He said his father was a gentle giant who opened doors for many aspiring artists. Lena Prima sang 'Pennies From Heaven' and 'Just A Gigolo' the way Louie Prima would have and she had the audience participating and singing along. They loved it! Next came Billy Eckstine's son, Freddie, who looks and sounds just like his Dad. He sang 'Everything I Have is Yours,' and 'Prisoner of Love.' Then, dancing, prancing and swinging around, he sang songs from the South Side of Chicago such as 'Let the Good Times Roll' and 'Birth of the Blues' that had the audience standing and cheering. On a quieter note, he tearfully said he was so honored when asked to do a tribute to Joe Williams Jr. Board member, Carme then came up to the stage and awarded honorary Cast memberships to the three entertainers.
The audience was filled with many well-known guests such as Antonio Fargas who has been a TV and film actor for 45 years. He starred in the cult TV series Starsky and Hutch and played Huggy Bear on Startreck. Antonio just moved to Las Vegas in July. Eric Floyd, who played Jerome on Fame also attended. Gorgeous females guests were: Wanda Dee, International Pop dance star and lead singer for British Pop group KLF; Trenyce, who won 5th place on American Idol; La Chita, an Urban Supermodel and Scameze, teenage Rock and Soul Star. Hope they come back to The Cast as they lit up the room. Others in the audience were Jillian Williams (Joe Williams Jr.'s wife), Mary and Norman Kaye of the Mary Kaye Trio, and regulars Freddie Bell, Babe Pier, Frankie Dee and Cast members and guests. All enjoyed a beautiful afternoon.
I always dread going to a mortuary for services, but do so out of respect for the deceased. Though my feelings were of sadness for the passing of the great entertainer Sonny King, the memorial for him was of celebration and was uplifting. All who attended knew that this is what Sonny King would have wanted and a fitting tribute to this man who was so talented and loved by so many. The more than capacity-filled Chapel eulogized Sonny with performances by many great entertainers, introduced by Frankie Scinta. Applause for Sonny and a standing ovation gave him his final goodbye.
The SAHARA announced they are bringing the successful musical variety act "The Scintas" to the SAHARA Theater starting in May. The Scintas" came to town six years ago and originally performed at the LAS VEGAS HILTON. After a while they moved to The Rio and proved their worth as seasoned performers by building a devoted fan base. They have been playing to enthusiastic sold-out audiences ever since. Wow! This is a real plus for the SAHARA.
---
A tribute to the great Sonny King with the Cast Inc. Crooners was planned for the Cast event on Sept. 19. Unfortunately, the honoree, Sonny King was in the hospital and unable to attend. However, as the old saying goes, "The Show Must Go On" and it did. And what a show it was. Films of this great performer were shown and although I had always admired Sonny, it brought to light how he had worked with the greatest names in both TV and film. He truly is a remarkable legend. His statement for performers is, "Never be satisfied, perform each time like the first time." Accolades for Sonny went on and on, showing him to be a caring, wonderful human being, besides being such a great entertainer. Musical background for the Crooners and others was supplied by the very capable musicianship of Linda November, Bobby Sax and Clyde O' Doole. Tony Sacca celebrated his 20 years in show business with a new song he wrote and sang with Michaelina Bellamy called 'Las Vegas Rocks.' Society of Seven's Tony Rivera sang and said how Sonny had made his group feel right at home when they first came to Las Vegas. Freddie Bell, who has been filling in for Sonny at the Bootlegger did a "Louie Armstrong" takeoff. Other performances were by Frankie Randall, Carme, Artie Schroeck, The Checkmates (Sweet Louie and Sonny Charles), Mark Giovi, Earl Desmond and Grant Griffith, who according to Artie Schroeck," can hold a note while he goes to the bathroom and back." Freddie Bell spoke of his friendship of 51 years with Sonny King. He told of taking his mom to Virginia City and she said, "Why don't they fix it up." Sonny's wife Peggy and his brother Donald age 87 were given proclamations from Lorraine Hunt and The Cast Inc. as well as a $1,000 check. As a finale, all the entertainers who performed were called onstage and sang "What A Wonderful World." We love you Sonny. Another missing performer who was in the hospital was Buddy Greco who was having surgery on both knees. Get well wishes to both Sonny and Buddy.
---
Las Vegas is losing two of its favorite performers to Palm Springs. Buddy Greco and his lovely wife Lezlie Anders have sold thier big ranch here along with their pigs, goats, etc. However before they actually move they once again invited all The Cast Inc members to their Ranch to celebrate the 2nd annual Memorial Day BBQ, and it was a day to remember. Freddie Bell was at the BBQ and MC'd the entertainment. Steve Lippia also did the cooking. A great jazz quartet, consisting of Chris Gordan on bass guitar, Bob Chindi on drums, Cocho Arby on keyboard and Jim Spoto on sax performed while everyone was eating. Afterwards the non-stop entertainment started with Michaelina Bellamy, Patricia Welch, Linda November and Artie Shreck, Dennis Bono, Sonny King, Frankie Randall, Buddy Greco and Freddie Bell (who whopped it up on keyboard and the song Almost Like Being In Love), Errol Desmond LeBlanc, Mark Giovoi Sharon Sills, John Kaye (who sang Mustang Sally with Kat Ray, Michaelina Bellamy, Freddie Bell and the entire audience). What a blast! Buddy and Lezlie, who are on the Board of The Cast Inc promised to come back to Las Vegas often, especially for The Cast Inc events. Good Luck buddy and Lezlie. You will be missed.
---
Las Vegas has become home to many celebrities, but none more renowned, larger than life, and an icon, than our own Tony Curtis. Tony loves living here and has done much to be part of the community. He and his beautiful wife Jill have been living in Henderson for several years. Las Vegas in turn has recognized him with tributes to his celebrity and philanthropy. The University (UNLV) inducted him into the Artist/Entertainer Hall of Fame at the UNLV College of Fine Arts. This was followed by The Cast Inc., an organization of entertainers helping entertainers, at an elegant black-tie affair honoring him at the Sahara Hotel. (Tony is a member of this important organization). But the pieces d' resistance was a three day event celebrating his 80th birthday at the MGM Grand. This was more than just a birthday celebration as Tony, known for his exceptional acting, was also celebrated as Tony, the artist.
Tony Curtis' incredible skill and versatility in the performing arts is matched by his innate ability to create great beauty in fine art. He has been sketching, painting and constructing exceptional artwork for almost 50 years. This exhibit, with more than 130 one-of-a-kind pieces including sketches, still-life paintings, boxed collages; hand-painted sculptures and painted vases were showcased to raise funds for Shiloh Horse Rescue and Sanctuary. Proceeds from the sale of his paintings benefited this organization that was started by Curtis' wife, Jill Vanden Berg, to help abused, neglected, injured and unwanted horses. About 50 horses live at the ranch, located just outside Las Vegas. Private collectors and art curators were able to view the artwork by invitation only the first two days of the event. However, the exhibition was open to the public at no charge on the third day.
I was fortunate to be at the fun-filled birthday event where Tony Curtis was also honored with a life time achievement award. His paintings and ilm work were highlighted around the massive room filled with family, includinghis daughter actress Jamie Lee Curtis, several celebrity friends and a my riad of well-wishers.
Many accolades were showered upon him as well as proclamations by: representatives of John Ensign, Governor Guinn, Dean of Fine Arts at UNLV, A Lone Sailor Award from the U.S. Navy and a letter from President George W. Bush and Laura Bush congratulating Tony on his 80th birthday. In person to present a certificate of recognition was Congresswoman Shellie Berkeley. Congresswoman Berkeley said her mother had gone to Seward Park High School with Tony on the lower east side of New Yorkand her mother always raved that he was the most gorgeous boy in the school. Shellie told Tony Curtis that his legacy is an inspiration to us all.
A special moment was when Hungarian Minister of Economy, János Kóka, and Ambassador Simonyi werewelcomed on stage by actor Larry Manetti (of & quote; Magnum, P.I. & quote; Starsky and Hutch & quote; fame) who was the MC for the evening. On behalf of the Hungarian Government, the Minister and the Ambassador presented Tony Curtis with a custom-made Herend porcelain vase featuring Tony's portrait. Minister Kóka praised Tony as someone who has given Hungary and Hungarians a good name in the U.S. Tony Curtis was visibly moved by this gesture.
And, what would a birthday celebration of this scope be without a tremendous birthday cake, A beautiful Marilyn Monroe impersonator (Janet Valentine, a member of The Cast Inc.) jumped out of the top of the cake and sang HappyBirthday to Tony Curtis, ala Marilyn Monroe's singing to President Kennedy onhis birthday.

Delicious food, specialty drinks and guests dressed to the nines added to the success of the evening. Specialty cocktails were served saluting Tony Curtis. They were: "Spartacus" a blend of Grey Goose Vodka, Citronage orange liqueur, and sweet and sour lemon slices. "The Defiant One" Absolute Apeach, Citronage orange liqueur, cranberry juice and a splash of lime juice and "Some Like It Hot" Patron Silver Tequila, Citronage Orange Liqueur, Orange Juice and fresh lime juice. Many of the paintings exhibited were sold. and this, of course, benefited the Shiloh Horse Rescue and Sanctuary organization that is so dear to the hearts of Tony and Jill Curtis. Rita Rudner was one of those fortunate to purchase a painting and purchasers of his art were invited to a special dinne rfor Tony after the event Happy Birthday Tony Curtis! Our community is so fortunate that you've chosen to make Las Vegas your home.

---
June/05
The Cast Inc. celebrated their monthly event with a Happy Birthday to Michaelina Bellamy who has done so much for the group. This fabulous singer is now appearing at the STRATOSPHERE HOTEL, along with great keyboard player/singer Billy Moran. Both sang during a dinner of steak or salmon at Stephen David's restaurant/lounge. The place was filled to capacity and a fun time was had by all. Leslie Anders spoke about Faye McKaye's predicament. Faye had been the recipient of an electric wheelchair from the Cast Inc last year. As The Cast Inc. is an organization of entertainers helping entertainers, Lezlie told of Faye's cancellation of her needed therapy. Now, as she is not even able to get into her wheelchair, her health is failing due to the elimination of therapy. Lezlie told the member audience of the CAST board's intention of getting her therapy. However, each therapy costs $120.. Buddy Greco and Lezlie were able to arrange therapy for Faye for $60 and they donated the first therapy for her. Lezlie asked the audience to think of contributing in addition to the board's contribution. Audience members donated over $1,000 to help Faye. That is what this organization is all about.

---
4/11/2005
A beautiful night of music was presented at THE ORLEANS when lyric baritone Grant Griffin along with Jeneane Marie, Michaelina Bellamy and Partricia Welch thrilled the often standing ovation audience with their glorious voices.
What a great new setting for THE CAST INC luncheons at the FRONT DOOR. The Cast Inc is an organization of entertainers that help entertainers in need. The audience filled the room and enjoyed a full course luncheon and entertainment by the incomparable Linda November and her husband arranger, conductor Artie Schroeck along with a seven piece orchestra. Linda, known as the MEOW lady because of her famous jingle has created more than 2000 television and radio jingles, and she wowed the audience with many of them. Artie Schroeck conducted and also sang some numbers with the lovely Linda. This was a special day for this great couple as they were celebrating their anniversary. Each of the performers in the orchestra is a star. Don Hill, one of the famous Treniers, and now up in years, is certainly not out of breath. He performed a wonderful solo that brought the audience to their feet. John Falbo, Mike Mechem, Bob Sachs, Joel Gibson Jim Spoto and Dwight Smith were the other orchestra members and they were all great. A wonderful afternoon. One of the very best.
---
9/06/2004
The Cast Inc. had a special picnic event for their members at Buddy Grecco and Lezlie Anders beautiful ranch. Hot dogs, hamburgers and all the trimmings were enjoyed and continuous entertainment was the order of the day.
After a short hiatus, the monthly luncheon events of The Cast Inc. resumed with a sock hop program. Guests were asked to dress as they would have in the 50's and 60's. A fabulous program was presented by Doug and Pam Mitchell, Freddie Empire and Arte Schreck conducting the band. The funny performances had the audience jumping, laughing and singing along. Costumes and characters were hilarious. Pam Mitchell never stopped chewing gum even as she sang. Audience members in costumes were called onstage (including me) and were given tickets to Lezlie Anders and Buddy Grecco's show "Fever" with the Benny Goodman Tribute Band at UNLV's Judy Bayley Theatre which played for 22 performances (and was outstanding). Next month's event promises to be a quick sell-out as The Scintas are being honored. This organization of entertainers helping entertainers has been doing that in a big way.
The Cast Inc. has been helping many members in the entertainment industry. In addition, a total of $15,000 in increments of $5,000 each had been given to the music departments of UNLV, Southern Nevada Community College and the Clark County Schools. At the August Cast luncheon, Lezlie Anders introduced school superintendent of fine arts for Clark County Schools, Marsha Neil who explained that the Cast donation had bought instruments for `at risk' schools. Marsha played part of an 8th grade orchestra concert from an `at risk' school that was absolutely beautiful. Marsha said this only happened because of the instruments that were bought from The Cast donation. When the `at risk' school started the orchestra they had 300 sign-ups. As of now, there are 509 sign-ups for the orchestra.
What a day of entertainment this was. Michaelina Bellamy introduced some audience members in song, such as Lieutenant Governor Lorraine Hunt, Dennis Bono, Sonny King, Don Hill (The Treniers) and Fran and Mac McDonald. Then, Joey Villa comedian, came on and had the audience rolling. He said he is dating a homeless girl and when he takes her home he can drop her off anywhere. The fabulous Carme sang and yodeled in his own inimitable way. New to Las Vegas, (but remember his name), Mark Giovi sang "If" with such emotion he received a standing ovation. Buddy Grecco will be producing an album for him. Mark just had a baby girl two weeks ago, and his wife and baby were in the audience. Tony Sacca then came on and presented proclamations to the honorees of the day, The Scintas - Frankie, Joey, Chrissie and Peter. All the Scinta families were there including Mama Scinta who is at every one of their performance at the RIO. Then the fun really began. Frankie told a Church joke that was hilarious and Joey did a takeoff on Joe Cocker that was a hoot. Freddie Bell introduced new board members, entertainment director of the Sahara, Ron Garett and Tony Sacca. Kudos to the lovely Michaelina who brought roses for each woman in the audience to enjoy.
---