It's The Norm
Editorial Content Copyright(c) 2002-2004 It's The Norm - Las Vegas Entertainment Events;
Internet Presentation Format Copyright(c) Las Vegas Leisure Guide

October 6, 2006 Freddie Bell Celebrates
It isn't often that this writer attends a birthday party, especially when the guy is older than me. But, then it's not everyday that a friend of some 30 plus years actually celebrates his birthday. Such was the case last Friday when the Bootlegger Bistro (you know the place owned by our Lt. Governor Lorraine Hunt) assembled a bunch of Freddie Bell's old cronies and held a party.

I'm not going to tell you just how old Freddie is, but when he was born salt had just been discovered in India. How old is that? That's so old that Columbus was still trying to find the Americas. Enough of that. I could go on and on, but I'll quit while I'm ahead.

The Bootlegger is where Bell hangs his hat every Friday and Saturday night as he hosts the 10 p.m. till 2 a.m. gig, where entertainers from all over gather,( along with just plain old friends) and do a few minutes on the microphone. It's a great gig. The late Sonny King, who was a friend to all of us, originated the session about seven years ago (give or take a year or two). Freddie has been the perfect replacement.

Just being an emcee is not what the host does at the Bootlegger. No, gang, he entertains too. Bell, for those uninformed readers, has been working on the Las Vegas Strip for nearly 50 years. He worked all the big lounges from the Sahara to the Tropicana. One of his many claims to fame was and is that he recorded "Hound Dog" first and used it every night in his act at the Sands Hotel. A young singer used to drop in after his show at the Old Frontier and, one night asked Freddie if he could record it. Bell, of course, agreed and the rest is history. That recording became a huge hit for the man known as The King of Rock'n Roll, Elvis. Just a little trivia.

Anyhow, it was like old home week at the Bootlegger. Nancy and I were lucky to get a table, believe me. We were joined by show producer Marvin Lashever and his lady, Linda. The list of those who were in the audience or performed reads like a who's-who of Las Vegas: Producer Maynard Sloate, Lt. Gov. Lorraine Hunt and husband Dennis Bono, attorney Mark Risman, Sahara Entertainment Director Ron Garrett, Kenny Kerr, Peter Anthony, Tony Sacca, Babe Pier, magician Jason Andrews, Linda November and Artie Schroeck, and last but not least attorney Angela Bell (Freddie's ex-wife) and her family. His good buddy, and one heck of a friend, Carme, was cruising the high seas, but sent a telegram congratulating Bell for making it to yet another birthday.

If you want to see some great entertainment, The Bootlegger has something going just about every night of the week. But, Friday and Saturday belongs to Bell and his friends. And, gang, that spells ENTERTAINMENT like it used to be in our little Village! Do yourself a favor (if you haven't already been there) and drive out on the old Las Vegas Blvd., to the Bootlegger and take in the Freddie Bell show at 10 p.m.
---
September 15, 2006
The Annual CAST, Inc., Gala was held Monday evening at the Sahara Hotel with Bill Medley of the Righteous Brothers on hand to receive the first Louis Prima Award, given for outstanding achievement in the entertainment industry. Lena Prima, daughter of the great entertainer, presented the award. And, if imitation is the sincerest form of flattery, then Medley must have been complimented that night as impersonators Gene Sironen and Doug Masters entertained as the Righteous Brothers at the gala. The guys performed "Little Latin Lupe Lu," "You've Lost That Lovin' Feelin'," "Unchained Melody" and "Rock and Roll Heaven." The two impersonators have been appearing as the Righteous Brothers in "Legends in Concert" at the Imperial Palace Hotel & Casino since 1994. The duo will appear again for a very special one-night performance this Monday (Sept. 18th ) at the I.P.
---
September 1st, 2006
There was and is always a lot going on in our little corner of the world - every day of the week. First off the bat we have the "Las Vegas Tenors," who I refer to as the "Four Tenors," coming into the Suncoast Showroom every Monday evening beginning Sept. 11th and going through Oct. 2nd. Then we have Bill Medley being honored on the same evening by the The CAST, and of course we have the remembrance of that day not too long ago that shook the world.
"The LV Tenors" will need our total support during its four performances at the Suncoast, so be sure to call and order your tickets ASAP. The new act at the Suncoast Showroom will have a live band and special musical guests stopping by each Monday. Bill Fayne, who is Clint Holmes' musical conductor at Harrah's on the Strip, will not be at the first two Monday shows in person (but will be seen via a special screen presentation). The show will kick off at 7:30 pm. with tickets priced from $19.95 plus tax. If you've been reading my column for any length of time then you know what I think of Mark Giovi, Bobby Black, Teddy Davy and Bill. They are without question the best I've seen in Las Vegas in the 41 years I've lived here. And, gang, that covers a lot of acts! And, if you've sorta been toying with the idea of spending a few bucks to see a show and weren't sure of what to see, then there's no more wondering. You have to trust this old writer one more time. Go see the Las Vegas Tenors at the Suncoast Hotel & Casino. Call 636-7075 for tickets.
THIS AND THAT QUICKLY: On Monday, Sept. 11th at 7:00 p.m. at the Sahara Hotel & Casino, Bill Medley of the Righteous Brothers, will be honored by The CAST, Inc. at a gala dinner. Bill will receive the first Louie Prima Award, which represents outstanding achievement in the entertainment industry. The CAST is comprised of entertainers, musicians and non-entertainers dedicated to supporting the Las Vegas community and entertainers from the past and present who need a helping hand. It's truly one of the best such organization I've had the privilege of being an honorary member of (media) and will continue to support 100 percent. Righteous Brothers' impersonators, Gene SironenL and Doug Masters, will entertain with dance music provided by the 10-piece Benny Bennet Orchestra. Tickets are priced at $59.95 and include a wonderful dinner, etc. For tickets call (702) 737-2515.
---
ENTERTAINMENT AT THE FOUR QUEENS August 25, 2006
The Four Queens Hotel / Casino in downtown Las Vegas at one time had the best lounge entertainment in Las Vegas. And that was not too long ago either. I can remember watching Frank Sinatra, Jr., cram his orchestra on the stage meant for about six musicians. One couldn't get near the room for all the people jammed into the area to see and hear Junior. The Four Lads and the Four Aces were regulars, and Jimmie Rodgers began a comeback in the lounge following his recovery from a near-fatal accident. And the Jazz sessions were the best ever with stars of the Jazz world appearing every week.
The Four Queens was the place to go, have a beer or two, play the slots and see some great entertainment. Entertainment still exists but it is sorta secluded to a second floor convention area called The Royal Pavilion. We, along with a cadre of media types, plus some of the great entertainers who helped to make this town what it is today, were invited to attend a special show featuring "Bobby Ruffin's Tribute to 'The Drifters'" and comic genius Pete Barbutti.
Barbutti is without question the best comic story teller in the business today. He can get you wrapped up into one of his comical farces and, before you know it, you're actually believing him. His routines are classics today as they were 10 or 20 years ago. Pete was a favorite of Johnny Carson, who had him on "The Tonight Show" more than 90 times - a record, I do believe. It takes a fellow like Pete to bring out the guys and gals from the past and present: Patricia Welch (a beautiful singer who works with Wayne Newton), Freddie Bell (who headlines every Friday and Saturday at The Bootlegger), Frankie Randall (who has assembled a show call the 'Four Italians' in Palm Springs), Melinda Read (television personality in Palm Springs), Sweet Louie and Sonny Charles ( The Checkmates who perform at the Sahara), Linda November and Artie Schroeck (he just finished arrangements for Frankie Valli in New York), Poupee Boccaccio (dancer, actress and artist), Tony Sacca (television personality), Grant Griffin (producer, singer and actor), Bill Acosta (who will be at the Suncoast Oct 13-15) and good buddy Nelson Sardelli (who continues to wow them in Europe) who was recovering from a severe burn injury to his leg. That was just a smattering of who all was there.
And Pete had them rolling in the aisles. Then just as he was wrapping up, one after another of those in the audience got on stage and began jamming. It was a wonderful evening of great comradeship. One of those rare nights that used to occur all the time in our little village - when the stars would hang out at a favorite lounge (Sinatra Senior used to hang out at the old Silver Slipper or the Sahara Lounges) and even sit in for a song or two. They just don't seem to happen that much anymore. Bell and his Friday and Saturday night gig at the Bootlegger is the closest thing to the old days - working entertainers from the Strip drop by and perform all the time and even some of the biggies have been known to come by for a quick "hello" and a song or two. I think you would enjoy Bell and his friends, which gets underway around 10 p.m.
Showtimes at the Four Queens are 8 p.m., Thursday through Sunday, with a $21.00 ticket price, plus fees. You honestly will enjoy this show. Both performers are well worth the price!
The wonderful Genevieve, who was nominated for "Best Jazz Performer" during the Black Music Awards last weekend, won "Best Jazz Vocalist - Female." This is a gal who earned the recognition by doing it the hard way - she worked her butt off and is one of the best. The girl singer will be at Josette's Bistro (on West Flamingo) tonight (Friday) from 7 p.m. and then at the University Patio Bar & Grill on Sept. 1st. If you want to hear some great jazz vocalizing, as well as contemporary music plus some Broadway hits, then drop by and say "Hello" to my friend. You'll be glad you did.
---
JULY 28TH, 2006 THE SCINTAS & CELEBRITY KARAOKE

Took in the long awaited media (and assorted VIPs) opening for The Scintas at the Sahara Hotel the other evening. And, as always with the Scintas, we didn't go home disappointed. As a matter of record, this writer has never left a Scintas show not feeling better than I did when entering the room, be it the lounge showroom at the Hilton (where they started their Las Vegas run towards the Strip) or the Rio showroom. They know how to build a show and producer David Saxe (he of the "V" Theatre inside Aladdin's Desert Passage) knows what to do off stage... promote. It's a perfect teaming of outstanding talent.

Now to the show itself. My only complaint is that the stage, designed originally for a magic show, is too monstrous for any act and needs to be trimmed down a wee bit. Frankie Scinta agreed and said that was being addressed. The opening number is "Ain't No Mountain High Enough." That sets the show in the right direction - Upward, which then leads the group into "Let's Get Started" followed by "Dance to theMusic." After a few greeting words from Frankie and brother, Joe, Frankie does his standard "spoon" performance (Joe always pretends he thinks it's not needed), followed by his banjo expertise. Sister Chrissi takes center stage and with a voice created by the Man above sings a beautiful "Somewhere Over the Rainbow." Joe and Frankie do a few spoofs, fool around with a couple of songs and conclude this part of the show with Joe doing a great impression of Mick Jagger with "Get Off Of My Cloud" and "Start Me Up."

Both Joe and Frankie and of course the adopted brother on drums, Pete O'Donnell, keep the show moving with various impromptu jokes and impressions, which leads them into their tribute section of the show. The tributes, where all four perform, includes The Beatles with Chrissi doing a fabulous rendition of "My Life," followed by Frankie as Stevie Wonder. There are tributes to Louie Armstrong, Johnny Mathis, Frank Sinatra, Dean Martin and Jerry Lewis.

Chrissi returns to the stage, dressed to the nines in a beautiful gown, and performs "Can't Live Without You" followed by Journey's "Separate Ways." One of the highlights has always been Frankie and the Grand Piano, where he pays tribute to his father Joe "Bucko" Scinta, a Buffalo, New York firefighter. Sitting in the audience (she rarely misses a performance), was Mary "Mama" Scinta," who loves it when her baby boy (Frankie) plays "Piano Man" and the theme songs from "The Godfather" and "Love Story." This almost always brings on a well deserved standing ovation. Joey gets his standing ovation too, when he does "Skeeter on my Peter." The show is nearing the end of a great 80 plus minutes. Frankie, as Ray Charles, does a rousing "America the Beautiful" with the family closing out with "I've Had The Time of my Life" from Dirty Dancing.

Another thing you should know about the show, it's always changing. So, if you saw them six months ago, you need to see them again. Tickets are priced from $32.00 plus tax and reservations can be made by calling the Sahara Box Office at (702) 737-2515.

Monday night, I decided to take a drive out to The Bootlegger on Las Vegas Blvd, South to visit, once again, with Kelly Clinton and her Celebrity Karaoke Night. As usual the show she puts forth is one you'll not find anywhere else. Kelly opens the show with a great impression of "Elvis" (she has portrayed him on stage - costume and all - and is a dead ringer for the young Elvis). Carmine, who does a show every Saturday called "Shades of Sinatra" at Capozzoli's Restaurant on Maryland Parkway, did his thing. Rita of the Marvelettes sang a fantastic "Best Thing That Ever Happened to Me," who was followed by Renee Dawn and "Make it With You." The most outstanding performance of the night (from a non-professional stand point) was turned in by Erika, a 17-year-old student at Sierra Vista High School. This young lady has all the poise and charisma of a professional singer. I can see her going very quickly up the ladder to stardom. Howie Gold, entertainment manager for the Golden Nugget and his boss, Joe Leone, also proved they could sing. Sitting in the audience and applauding for every act was Clint Holmes, who really supports these special evenings.

Kelly, who has been introducing every act and cracking jokes along the way (she's great as a stand-up) then got Rita to join her along with Bobby Black (he of the Four Tenors) and Skye from the Hilton show "Menopause The Musical" in an outstanding rendition of "Midnight Train to Georgia," one of this writers personal favorites. By this time we (Nancy and I) were ready to call it a night. Then Kelly introduced Gary Marshal so we stayed for him and then left. It was another wonderful night of entertainment. You can take it in any Monday evening. The show starts at about 10 p.m., but I would strongly urge you to get there early as it fills up pretty quick.

THIS AND THAT QUICKLY: A couple of sad notes to pass on if you didn't read about them or hear about it already Howard Benway, (64) who was best known as "Little Lil" and who worked with Kenny Kerr in "Boy-lesque" for a number of years, passed away on June 29 following a long illness...

Bill Miller, pianist-accompanist for Frank Sinatra from 1951 to Sinatra's final performance in 1995, passed away unexpectedly while on tour with Frank Sinatra, Jr., in Montreal at the age of 91...

Bill Fanning, a onetime cast member of "Bottoms Up", is in a Veterans Home in Spokane, Washington, and is not doing too well. He would love to hear from his many friends. You can write to him at Spokane Veterans Home, 222 E. 5th Avenue, Spokane, Wa. 99202...

Speaking of Kerr, the longtime Las Vegas entertainer will be presenting a new, surprising weekend show at the newly opened Suede Nightclub on Paradise Road every Friday and Saturday at 8 p.m...

Genevieve, one of this writers' personal favorites, will be singing August 4 & 5 in the Firenze Lounge at the Ritz Carlton, Lake Las Vegas from 8 pm...

Jon Lovitz, who is at The Orleans Showroom this weekend will do an Open Conversation at the Suncoast Showroom Sunday (July 30) from 1:30 to 3 p.m. and admission is free...
---
LAS VEGAS SINGS FOR AMERICA,
LAS VEGAS TENORS & MORE FOURTH OF JULY FUN
How was your July 4th celebration? Hope it was safe and sane? Mine was terrific as we, Nancy and I, took in the Tony Sacca extravaganza downtown on Saturday, followed by a trip to the Casbar Lounge at the Sahara to see Kelly Clinton perform. Then Sunday afternoon we went to the Beam Recital Hall at UNLV to take in the "Las Vegas Tenors" (I will refer to them as the Four Tenors) which was another highlight of the weekend. The 4th was spent at Dr. Tali Arik and his lady Fair, Julie's, home with some great new friends. Of course we had a ball!

Sacca continues to get better with age (just like a bottle of fine wine), as this year he staged his Third Annual "Las Vegas Sings for America" downtown under the Fremont Street Experience canopy. My only complaint was that it was hot, hot, hot! I mentioned to Tony, after the show, that next year he should make sure "misters" are used to help keep the area cool.

The show opened with Sacca and the Nellis Honor Guard bringing the group Spectrum to the stage to sing the National Anthem. I have heard the Anthem sung many ways, but Spectrum's was one of the finest I've heard in a long time. Just beautifully done!

Tony then sang his own song, "Las Vegas Sings for America," and the show was off and running. Lisa Dawn Miller performed two patriotic songs, "Battle Hymn of the Republic" and "Bring Them Home," followed by Sacca singing "Coming to America." One of our very best girl singers, Denise Clemente (who performs on a regular basis at the Sahara Hotel) did a fabulous rendition of "God Bless the USA." Jerry Tiffe, who has lived and worked in Las Vegas for more than 30 years, was next on stage and he wowed the audience, with "Yankee Doodle Dandy" and "America." Lena Prima (yes, daughter of the Louie) did "When the Saints Go Marching In" with Sacca joining her to sing "Just a Gigolo." Headliners at the Greek Isles, "The Rat Pack is Back," were next with a stirring "Armed Forces Medley," which was followed by "Elvis," as portrayed by Steve Connolly who performs at the Four Queens. Spectrum returned to perform a Motown medley, followed to the stage by "Forever Plaid" from the Gold Coast. Earl Turner, one of this writers favorite performers dating way back and currently at Palace Station, was the closing act with a dynamic "Living in America."

The Michael T. Orchestra, with special guest musicians Artie Schroeck on piano and Linda November on synthesizer, performed wonderfully for all the singers.

The television show will be shown locally on TV 25 (cable 14) July 22 at 2:00 p.m. and later on TV 21 (cable 12) at 2:00 a.m. and again on TV 25 on July 29 at 12:30 a.m.

Following the downtown show a bunch of us headed for the Sahara Hotel where another fabulous entertainer was performing, Kelly Clinton. Now for a lot of you folks out there in reader land, you may think Ms. Clinton is strictly a host of the weekly Celebrity Karaoke show at the Bootlegger and hostess in the Stirling Club at Turnberry Towers. Well, this petite gal has been performing in Las Vegas for a long time. I first met her when she was singing with a group at the Maxim Hotel back in the '80s. One of her mentors during that time was a performer who was the entertainment director and host of a Sunday night talent showcase at the hotel. One of Frank Link's favorite songs was "Midnight Train to Georgia." Robert Goulet, who at the time was holding forth at the Dunes Hotel, would come over following his first show and sometimes would sing a song or two. One of Link's final gigs was as an opening act for Goulet. Frank died of cancer. So, here we are listening to Kelly and remembering those evenings long ago, when she began to sing Link's signature song. It was beautiful, gang, just wonderful. In the audience was Bill Fayne (conductor for Clint Holmes), who we would see Sunday Holmes, Ron Garrett of the Sahara and a number of Kelly's close friends.

Sunday was another fabulous day of great music. The Four Tenors (my name for them) were doing what they do best - singing some of the greatest songs ever written, from Grand Opera to Pop to Broadway. The four guys who have remarkable voices are Bill Fayne (who came up with the idea), Mark Giovi and Bobby Black who are in the show "Bite" at the Stratosphere and Teddy Davey. The recital hall is a perfect acoustic room for their type of performance - up close and personal. What is so unique about these four guys is there is no ego on stage. They are there to entertain (and entertain each other as well) a grateful audience with angelic voices that soar to the highest level of music. The guys have been booked for four Mondays at the Suncoast Hotel & Casino beginning the middle of September. More on this booking as September nears.

We also stopped by another friend's house on the 4th to help him celebrate his birthday. About 150 of his closest friends, came by to wish Denny Jones Happy Fourth and Happy Birthday. Among the well wishers were Grant Griffin, Marilyn Monroe impressionists Janet Valentine and many of the members of CAST.
---
April 7,2006
The Animal Foundation Benefit staged at the Mel and Marilyn Larson mansion in Sandy Valley was a huge success. About 125 people from all walks of life paid their $150.00 to wander through the unique home, look at oil paintings from the brush of actor Tony Curtis, purchase some hand-made jewelry from writer Bobbie Katz and be amazed with the bronze sculptures of this writer. It was a wonderful party.

THIS AND THAT QUICKLY: Buddy Greco and wife Lezlie Anders opened their new nightclub in Palm Springs on March 23rd. A VIP reception preceded the opening show at 7 pm. Of course the opening act was the two owners of the eatery, which is aptly named Buddy Greco's Dinner Club. It is located at 68805 E. Palm Canyon Drive in Cathedral City. Appearing there this weekend is Pete Burbutti and coming in next week on the 12th for five nights is one of my all time favorites, Barbara McNair. Buddy will be back on April 19th through May 7, with Fred Travalena slated for May 10-14. There are two dinner shows at 7 and 9:15 pm... "The Price is Right - Live" will makes its Las Vegas debut April 25 in the Jubilee Theatre at Bally's. The show produced by the same people who produce "American Idol" and the television show "Price..." will be presented Tuesday, Wednesday, Thursday and Saturday at 2:30 pm., and on Fridays at 8 pm. They are holding auditions for models to showcase the prizes from 9 am. to 2 pm. on Wednesday, April 12 inside the Jubilee Theatre... This is the big week for those monsters of the 1/4 mile drag strip at the Las Vegas Motor Speedway. The Strip is hosting the National Hot Rod Associations (NHRA) big guns with a full schedule beginning today (Friday) and running through Sunday. All the stars, from John Force to Larry Dixon, will be on the line gunning for the pot of gold... The gang (all his pals) gathered last Sunday at the Bootlegger to bid Joey Villa a fond farewell as he left to join some of his buddies like Frank Sinatra, Dean Martin, Sammy Davis, Jr., Sonny King and a slew of great guys and gals. Former radio host Frankie Dee was one of those attending. We (this writer) had stopped by Saturday to see Freddie Bell do his thing at the Bootlegger (he hosts on Friday and Saturday nights beginning at 10 pm.) and of course ran into singer Carme. Frankie Dee was there looking as dapper as ever. And at 91, he looked as fit-as-a-fiddle and was having a wonderful time. Well sometime Monday Dee was struck with something serious and supposedly tried to call his daughter. When the daughter arrived at the home, Frankie was said to be found in his chair, phone in hand. He had passed away. I agree with entertainer Nelson Sardelli that a moratorium be enforced - no entertainer will be allowed to die a physical death for the next five to 10 years.
---
GOOD-BYE SONNY KING
A very good friend of mine went to the Great Golden Stage in the sky, where his buddies have been waiting for him, for oh so long. Sonny King will be missed by all who knew him here on earth. When he left us, he had a great big smile on his face as he stepped out of the carrier that delivered him to the stage. The first guy to greet him was probably his mentor of 25 plus years, Jimmy Durante. "Hey, I've been waiting for you so darn long, my nose has shrunk. It's about time you got here."

"Well, you know Pops, I had some unfinished business to take care of before I could get away," was probably how Sonny replied to Jimmy.

Sonny always had something to do or somewhere to go. As his public relations guy over many years, I can attest to the fact that Sonny never turned down an invitation to appear at a benefit, be it small or huge. In the early days of Las Vegas Sonny King was a star. There were stars in the big rooms and then there were stars in the lounges. King was a star in both rooms. His friends numbered in the thousands and his special friends numbered in the hundreds, and he knew each one, having a fantastic memory for names. That's why the Bootlegger hired him to host the Friday and Saturday Night Party along with his pal, the late Blackie Hunt. Any star worth his salt would drop by and say "hello" and do a number or two. It was the place (and still is with his friend of 50 some years, Freddie Bell, now hosting) to be if you wanted to see entertainers do something "Off the Cuff."

Everyone talks or writes about the Rat Pack and Sonny. Yes, it's true that King was the unofficial fifth man of the Pack. He would sometimes substitute for any of the original who may be ill, working somewhere else or just not able to perform. When the Pack was appearing in the Sands showroom, Sonny would always be booked into the lounge. The Man, Francis Albert Sinatra, loved Sonny King like a brother. Dean Martin, who you know roomed with Sonny in New York in the formative days of their careers, was as close to him as anyone could be - without being a blood relation. Jerry Lewis and Dean became a team because of King. Gosh, there are so many stories one could tell and that have been told since he entered the Golden Stage with his new solid gold microphone.

"Hey, Pally... it's about time you got here... Have one on me," Martin obviously said, as he handed him a tumbler filled with his favorite brand of booze.

The line leading to the stage looked like the Who's Who of showbiz. There was Frank and Dean with Peter Lawford standing next to Sammy Davis, Jr. Blackie Hunt was there with Joe Williams. Redd Foxx was smiling as were Vido Musso, Jack E. Leonard and Sergio Franchi. The press, who always knew they could get a good quote from Sonny, was there too: Forrest Duke, Joe Delaney, Etta Cortez and Bill Willard were taking notes, as were Pete Mikla and Ralph Pearl. Totie Fields and Nancy Austin smiled as he passed. Pepper Davis, Joe Louis and Rocky Marciano all went into a boxing stance. Louie Prima took out a golf club and offered it to him. Gus Giuffre held a microphone in his hand for a quick interview as did Red McIlvane and Jack Kogan. Bernie Allen had his German costume on and Joey Villa had finally lost all that weight. The welcome line seemed to stretch for ever as he was greeted upon arrival. And waiting for him at the edge of the stage was Johnny Carson.

The band struck up the first notes of "New York, New York" and Sonny began to prance along the red carpet waving his hands in celebration. Then in a voice distinct to King, he began to sing. The stars of yesterday formed behind their friend as they all headed for the gold stage, where Sonny would do his encore.

Sonny King is back where he belongs. King suffers no more pain, thank God. Sonny will be missed by all of us who remain here. But we're happy 'cause we know he's a happy camper. You are now home, Sonny!

---
December 30, 2005
Freddie Bell has been named to replace the great Sonny King as host / entertainer at the Bootlegger Bistro on south Las Vegas Blvd. His first night will be New Year's Eve (this Saturday) beginning at 10:00 pm., and then he'll be there every Friday and Saturday evenings beginning Jan. 6, at 10 pm.

Sonny (he became ill a few months ago) is still recovering and was unable to return to the stage he loved so much. The Friday / Saturday format was created by King a number of years ago and was very successful. What makes the nights so special is you never know who will be in the audience - stars from Hollywood, the Las Vegas Strip and various lounges are always stopping by and often get up to perform. The late Blackie Hunt was part of the act for a couple of years, until he fell ill. One of the regulars at the Bootlegger is the owner, Lorraine Hunt, who you can bet if she's in the house will sing a song or two.

For those of you who may not know exactly who Freddie Bell is, let me give you a short version of his biography. He was born in Philadelphia where he grew up and started entertaining at a very young age. Eventually he was spotted by an entertainment director at the old Sands Hotel (where the Venetian now stands) and brought to Las Vegas for a two-week gig. The act was called "Freddie Bell and the Bell Boys" and those two weeks were extended and eventually Bell moved here permanently. That was over 40 some years ago and he's been going strong ever since. Not only does he sing, but his impressions are hilarious.

Nobody will ever be able to replace Sonny King as there is only one such performer. Bell, however, will entertain you as only he can! I would strongly urge you to make reservations if you intend on going this Saturday night or any future evenings.
---
ARTIST POUPEE BOCCACCIO & ENTERTAINER SONNY KING
There's been a lot going on and some important events taking place. So here we go!

First there is a very talented lady who will be having a very important press opening and reception for her "Las Vegas Neon Icons" exhibit at the Downtown Coffee Company beginning this coming Wednesday (28th). Poupee Boccaccio is her name and what a talent. This is a lady who has had a varied career beginning as an actress - singer - dancer for movies and stage. She holds a Bachelor of Art degree in romance languages and is also a highly rated teacher. But art has always been in her life and is her first love.

This exhibit, which will run for 30 days, is a photographic collage. "This body of work was inspired by my love of drama and theatre. To me the art of Las Vegas is in the neon imagery," Poupee (pronounced Poo-Pay) said. "My background in theatre and all of my art expresses that fact. My theatrical history and the history of these original iconic figures are linked together."

As a visual artist, her work has been reviewed in Art America, Art Week, the L.A. Times and San Diego Union-Tribune, to name a few. Her work is in permanent collections of major museums and important private collections throughout the world. She has participated in over 50 prestigious shows, going back to 1985, when she won Best of Show at the Long Beach Art Association Juried Exhibition. In 1994 she was honored with the Gold Medal, the Discovery Award by the Art of California Magazine.

The Downtown Coffee Company is located at 231 S. 3rd street (corner of 3rd and Bridger) At 4 pm. Poupee will make a presentation to Mayor Oscar Goodman and the City of Las Vegas in commemoration of the 100 years of our town. Doors will open at 3 pm. For more info call (702) 386-2627.

The CAST had a fantastic luncheon the other day at the Greek Isle. Every entertainer who ever worked Las Vegas (if they were in town) was there to honor one of their own, who is waging a second battle against the "Big C."

Sonny King has been a fixture in Las Vegas for over 50 years. He was buddies of some of the greatest entertainers to ever work a stage - Frank Sinatra and all the Rat Pack, Jimmy Durante, Robert Goulet, Wayne Newton. You name'm and he knew 'em! For over 25 years he was Durante's sidekick on stages around the world. I first met him backstage at the Desert Inn after a Durante Show in 1966 - a few months after arriving in our town. Eventually I would become his Public Relations guy, along with a few dozen others. But Sonny always had a way about him that endeared him to everyone he met. One thing, you knew where you stood with him. If he liked you well there was nothing he wouldn't do. If he didn't, then you were in deep doo-doo.

Leading the show was Cast President Frankie Randall, who was followed by Artie Schroeck who first met Sonny in 1962 in New York. Many funny stories were told, especially the one by fellow funny guy and singer Carme. Mark Giovi, who is a gifted singer, remembered how Sonny helped him when he first came to town a couple years ago - by giving him a chance to sing at the Bootlegger one weekend. The Checkmates did a very special tribute of two songs, followed by Grant Griffin. Errol Desmond was terrific as was Tony Sacca, who was followed by a member of the Society of Seven. Freddie Bell, who possibly has known Sonny the longest (over 50 years), closed out the live portion of the tribute.

A film showing the highlights of a fantastic career was a fitting closer for Sonny King. The Bootlegger continues its weekend guest shows with Bell hosting until King returns. I, personally, would like to see the film put on a CD and put up for sale. It is a biopic of not only Las Vegas, but of many, many famous people who are no longer with us. It's a natural!
---
August 5, 2005
As promised a few weeks ago this reporter visited the Bootlegger to see and listen to a very wonderful entertainer, Genevieve and ran out of space to give her a proper review. Now I have the space and time.

This fine singer, who has a super husband that travels between here and Los Angeles almost weekly, did two special sets this particular Sunday evening. The first was a knockout and the second just sealed my fate - a standing count of ten. As most of you know Broadway songs are among my personal favorites along with the music from the Big Band era. Well Genevieve hits them all with songs like "Getting to Know You", "On a Clear Day", "Summertime" and "Funny Valentine." A medley of songs by Duke Ellington ("Don't Get Around Much Anymore". "Satin Doll", etc) was quickly followed by her very own styled "Over the Rainbow." Henry Mancini's "Days of Wine and Roses" was another highlight and she closed with "Crazy," composed by Willie Nelson and made famous by the late Patsy Cline and, "Stand by Me." And that was just the first set.

Then it was time for set number two and what a killer this set was. She's a great fan of Nat King Cole and his daughter, Natalie and, starts right off with "LOVE", "Inseparable", "When I Fall in Love," ending with "Unforgettable."

Genevieve is a star equal to any recording star of today and proves it every time she appears on a stage. Her love song medley comprised of "Sweet Love", "Feel Like Making Love", "At Last" and "For Once in My Life" are just beautifully presented with a true sense of what she's singing. She feels the lyrics of every song she sings. Her wrap up is two great songs "Gee Baby Ain't I Good to You" by Nat King Cole and Barbara Streisand's "Don't Rain on my Parade."

The next time you read or hear that Genevieve is appearing some where close by, do yourself a huge favor and go see what I'm talking about. I believe you'll be pleasantly entertained by a "Singer!"
---
June 17, 2005
If you weren't at the Union Plaza last Sunday (June 12) and inside the showroom, then you obviously missed a fabulous show dedicated to America. Produced by Tony Sacca and Fred McLane this particular production "Las Vegas Sings for America" was being taped for television.
Sacca was the rubber band that kept everything moving along smoothly - considering the 60 minute show which will be seen on television took just about three hours to shoot. The "Entertainment Ambassador," as he is known in certain circles, opened the show with a very enthusiastic rendition of "Coming to America" with the "Viva Las Vegas Dancers" (four fantastic ladies). David Brenner (he of the Hilton Hotel) came on stage and did a really hilarious seven minutes of quick one-liners and observational comedy. There's none better than David! Ron Lucas, the man who throws his voice in every direction daily at the Rio Hotel, had a youngster from the audience go through his "Big Jaws" routine which is without question one funny routine.

The duo pianos of Mark & Clark were just perfect, quickly followed by Jennifer Joseph (who finished second in the Wayne Newton Reality Show) who belted out a rousing "Living in the USA.". Lance Burton did his Great Houdini Escape routine. Burton never turns down a chance to perform at a patriotic or benefit show and is really one of the good guys in town. The Knudson Brothers (billed as Six Real Brothers at the Lady Luck) were the un-questionable crowd pleasers of the afternoon. They do all the sound effects for various instruments including drums, etc., and the harmony is perfect.

Sacca (who was on and off stage between taping) returned to sing with Lena Prima (daughter of the great Louie Prima and now appearing at the Sahara Hotel) a great "This Land is Made for You and Me." Four of the girls from the Helen Joy Young Entertainers, attired in WWII WAC uniforms (calling themselves the Tonettes) joined by Tony in an Army Uniform (he was once a Marine in real life) performed an Andrews Sister routine of "Boogie, Woogie Bugle Boy" that was absolutely out-of-sight. Matt Lewis, who performs as Elvis in the Legends Show at the Imperial Palace, sang the famous "Dixieland Melody" setting the scene for the final acts. The Young Entertainers (comprised of a group of youngster ranging in age from five to 19) performed, followed by Helen Joy receiving a proclamation from the Mayor of Las Vegas. Tony closed out the show with a stirring "America the Beautiful".

THIS AND THAT QUICKLY: Michaelina Bellamy celebrated her birthday last Monday evening (June 13) at Steven David's Nightclub on Sahara Avenue. It was part of the monthly CAST get together. Accompanied by jazz pianist Bill Moran she not only celebrated but entertained the crowd of fellow entertainers. This gal can sing just about anything and does she look terrific (I think some Angel sprinkled the real stardust stuff on her a long time ago)...
---
June 3rd, 2005
And how was your Memorial Day Weekend? Mine was kept busy going from point "A" to point "B" with a whole bunch of stops between - Parties!

First off a good friend and a member of the CAST tossed one of his annual Pre-Memorial Day parties at his home in the southeast section of our village. Denny Jones, who is semi-retired from everything but life, opens his beautiful home four times a year for special parties. Those attending are a mix of the men and ladies who make our village so great and gives those attending a chance to meet new people. As usual it was a great way to celebrate such a day as Memorial Day - seeing old friends and making new friends!

The next day, Monday, was spent getting prepared to attend the Annual CAST Memorial Day Party at Buddy Greco and Lezlie Anders ranch (home) also in the southeast section of Las Vegas. Actually the homestead is just off the old Las Vegas Blvd.(now new) and near the old Lake Mead road (everything seems to be getting old these days). This is very possibly the last such party to be held on the property, as Buddy and Lezlie are selling and moving to Palm Springs, where they will open their own nightclub.

The CAST tosses one heck of a party believe me. Members chip in by bringing various food items and then the hard stuff begins - cooking. Freddie Bell and his dynamite wife, Angela are in charge of cooking the various hot items. Steve Lippia always assists Angela (You see Freddie is in charge and immediately takes on a supervisory role) over the hot coals. Judy Coco was in charge of the beverage department (the only thing you had to pay for was the beer or wine at a buck a drink). It also takes a lot of work behind the scenes to prepare an area to accommodate the couple hundred who'll be stopping by to partake of food, drink and good companionship. But, the Greco's always pull it off with the assistance of club members and a small staff of volunteers - Tables and chairs are set up under shade trees, the huge yard is raked clean and the animal area is (do they have animals? You bet!) spruced up. The animals which range from goats to a pot bellied pig are perhaps the most pampered such creatures in the area. Unfortunately they will not be making the move to Palm Springs so Leslie is looking for good homes for her brood. Their family of dogs are also some of the best behaved I've had the pleasure of petting.

The party kicked into high gear when Bell, now in charge of the stage (how does he do it all?) begins to introduce various members (entertainers), who then joins the band for a song or two. Just some of those who partook of the friendship and entertained included Artie Schroeck, Linda (February) November, Frankie Randall (he's the President so Freddie had to also allow him to speak ), Patricia Welch, Grant Griffin, Loretta St. John, Michaelina Bellamy, Dennis Bono, John Kaye, Mark Giovi and Tony Sacca to name just a few. The hosts naturally joined the group on stage, with the party going well into the darkness of night. The final entertainer was non-other than our very own Babe Pier. It was a wonderful evening!
---
May 6, 2005 Tropical Passions - Callback Showcase
My good friends Ron Garrett (he's the entertainment guy for the Sahara Hotel) and Marvin Lashever have been telling me that I had to see the new show "Tropicana Passions," which had been in previews and a shakedown run for two weeks. So, naturally when I got the invitation I accepted. One can not let your buddies down, right? Well, let me tell you, I was not disappointed. This is a show dedicated to the era of Free Cuba and a little reminiscent of the early days of Vegas (when you had a ton of dancers, a big orchestra and lots of singing on a big stage). Just imagine 30 dynamite dancers and entertainers and a 22-piece orchestra - I think you get the point.

The costumes are absolutely out-of-sight with vibrant colors and the gals aren't too bad either - as a matter of record they dance their B-ts off! Produced by ReGu Productions this is a show that stands alone and, is not a copy of another show on the strip at the Stardust, which by the way is a fabulous show too.

The Tropicana All-Star Orchestra, under the direction of Adalberto Lara, is a tribute to Banda Gigante (a big band made famous by Benny More in the 50's) and was formed for a recording project. Incidentally, the record was nominated for a Grammy this year in the Traditional Latin Album category. It was wonderful hearing those energy driven charts and the great trumpets - which have always been a vital part of any Latin music.

Jesus Sanfiel's choreography is a driving piece of history, as the dancers portray the great shows of the Cuban casinos in the 50's and 60's. I personally remember a couple of those shows when I visited Cuba with former Heavyweight Champion Joe Louis prior to Castro. And what can one say about the lighting direction? Lighting, in this particular case, is very important as you want to see those beautiful and bright colors explode on stage. Larry Hart, who was brought in to perform his magical touch once again, had the stage and the performers lit perfectly.

All in all, this is a show one should see. Showtimes are 7 pm. nightly except Tuesday, with an additional 9:30 pm. performance on Friday and Saturday. Tickets range from $49 to $69 plus tax and fees.

Our next stop (same evening mind you) was the Golden Nugget to see "Callback's" talent showcase in the showroom where such performers as Tony Bennett, Frank Sinatra and other greats performed. To be honest with you there were no Sinatra or Bennett's on stage this evening. But there were some very worthwhile performers - about 34 in total. This particular showcase is put together by Minnie Madden (she's the publisher of the showbiz publication) and it's supposed to bring various entertainment buyers into the room to see talent they may be unaware of. I have no idea how many buyers showed up, but the room was pretty full when we arrived and when we left.

It would be unfair of me to pick out any particular act to write about; as we arrived just when a duo piano group was ending their act and the emcee (a Tom Jones impressionist who kept complaining about using a microphone with a cord) was preparing to introduce the next act "Fields of Gold." We stayed for nearly 90 minutes before it was time to head for Henderson. As we left the "Blues Brothers" were coming on (not the real ones gang). I wanted to see and hear Linda Angeline (who was scheduled for between 9 and 9:20 pm) but she must have been shifted to another time slot. Well, I can catch her one of these evenings in the lounge at the Imperial Palace. I understand the show continued into the early morning hours.

Good friend Melinda Read (she's the lady I often refer to as Frankie Randall's Lady Fair) was honored by Palm Springs with her very own Star in the "Walk of Stars" a few weeks ago. She's quite a lady, being a former Mrs. California and having her own television show "Talk of the Desert." She and Frankie of course are two of the many entertainers who support the efforts of the CAST. Congrats friend!...
---
Greco & Anders Honored, Carme and Bill Acosta April 29,2005
Went to the Front Door (on Paradise north of Tropicana) the other afternoon to have lunch with a good friend and his wife - Buddy Greco and Lezlie Anders. The only problem was there were about 200 others there too. But what does one expect when the CAST puts out an invitation to honor one of the greats? And believe me Buddy is one of the greats of all time and I am proud to say he's a friend.

The luncheon started out with quick visits with a bunch of friends, former clients and new friends. Freddy Bell (a former client and he never lets me forget it) was there. Frankie Randall (a fabulous talent that should be working more in our little village instead of Palm Springs) and his lady fair showed up. Kathleen Dunbar (a comedian I sometimes book) sat down and had lunch with us. Artie Schroeck (a magical composer / arranger / pianist) helped out by working the ivories prior to lunch. He joined his wife Linda November (she's known world-wide as the Jingle Lady) at our table. It was good seeing Patricia Welch (another beautiful singer) joining in the fun.

Buddy and Lezlie, as previously mentioned a few weeks ago, are selling their property here and moving lock-stock-and barrel to Palm Springs. Well, not exactly stock - see they own pigs, chickens, goats and other wonderful animals which I do not believe they can take with them. Anyhow this day was dedicated to the two people who have worked tirelessly to keep the CAST going in a straight line. The above mentioned Artie will now take over the entertainment duties for the organization. Buddy and Lezlie entertained the crowd and naturally received a Standing Room Ovation as a thank you.
Oh, yeah, nearly forgot. A friend of some 35 years singer / comedian Carme was telling me about the recent party he attended in honor of President Clinton's father Dick Kelly. It was held at Hank and Dixie Cartwright's home in Quail Estates. By the way, Carme has been friends with the Clintons and Kelly since 1974. The President was there with his wife, Senator Hillary and daughter Chelsea. Carme sang a few of Kelly's favorite songs. The President and family stayed (while here in Vegas) at Sun Publisher Brian Greenspun's home. Whenever Carme is out of town on a cruise (where he keeps those chops in shape on the best cruise ships in the world) he sends some of the most interesting and funny short stories to his friends via emails (of which I am a recipient). I told him he should publish a book comprised of those funny letters. It would be hilarious!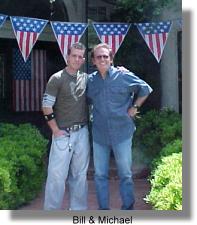 Entertainer and great friend Bill Acosta and his wife, Jeanne Bavaro have been waiting for the day their son, Michael would be returning from Iraq where he served as a member of the United States Marines. Bill had tried, unsuccessfully I might add, to go to Iraq as an entertainer while his son was there. Both Las Vegans held a small, intimate welcome home party for their hero who arrived over the weekend.
---
Bob Newhart & Michaelina Bellamy April 22, 2005
Bob Newhart was right on last Saturday night as I sat in the Golden Nugget Showroom, remembering back to the sixties, when he, his buddy Don Rickles and Shelley Berman were the three hottest comedians on the strip and they all worked at the Sahara Hotel.

His delivery hasn't changed one bit - he still stammers, still grins at his own inadequacies and tells some of the best short stories ever. His classic Driver Instructors routine can not be copied nor will it ever grow stale. My companion, Donna and I just sat there like everyone else and laughed till our ribs hurt. Another classic was his Ted Mack Amateur Hour where he becomes a Metropolitan Opera singer. And then there's the telephone - wow he and Shelley had those routines nailed in the great old days. And, his routine this time was just as classic.
I was a public relations director for the Del Webb Corporation when the above three stand-ups headlined the Congo Showroom at the Sahara. Rickles, who started his Las Vegas visitation in the 60's in the old original Casbar Lounge and, Newhart became fast friends during those days. I believe both men met their wives Virginia Newhart and Barbara Rickles) at the hotel and to this day the four vacation together every year. It was a wonderful night of laughter and we got a chance to visit briefly backstage where we reminisced about those early days in Las Vegas.
O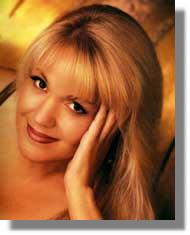 pening for Bob was a personal friend of this writer and of a lot of entertainers in our little village - Michaelina Bellamy. This talented lady, who normally appears in the Casbar Room at the Sahara, got the opportunity to belt out six fabulous songs before the room became filled with laughter.
The former USAF songstress and an opening act for many top notch entertainers didn't waste a moment either, as conductor Artie Schroeck gave the downbeat to the nine musicians. Her first number was "Till Love Touches Your Life" made famous by the late Sarah Vaughn, followed quickly by "The Greatest Performance of My Life" which was very appropriate for the occasion. Artie, who has written and arranged music for the greats and conducted for many of them, arranged four of the charts (the two above): "Everything I Do" and "Here's to the Band." Her rendition of "After the Lights Go Out" was absolutely a killer. The next time you see her name on a marquee go in and check her out. You'll see a winner!
---
Grant Griffin March 11, 2005
Went to the Grant Griffin Concert earlier this week (March 8) to see and hear exactly what is going on with the talented baritone and, the three dynamic ladies he was featuring. I quickly found out when a 21 piece orchestra - including a sizable string section - appeared on The Orleans Showroom stage. It's been a long time since I personally saw that big of a presence of musicians on a stage.

Anyhow, to the concert. Right off the bat Grant opens with a wonderful "Mariah" followed by "Full Moon & Empty Arms." Next on stage was one of the nicest persons on the universe (personal opinion) and a terrific singer, Jeneane Marie who performs at the Sahara on a regular basis. This gal can belt out any song there is but picked "Stand Strong" and "At Last" for her solos, then paired up with Griffin for a dynamite "Wind Beneath My Wings."

The concert was moving right along with Grant performing two solos next, then bringing out the beautiful and talented Michaelina Bellamy, who also performs at the Sahara. Michaelina performed two fantastic numbers "Angelito Negro" in perfect Spanish and finished up with "Hero." What really made this so special was a film she had made showing her heros - Mom & Dad who were also entertainers and dancers along with other family moments.

"Funny Valentine" came next by the host, who introduced the next singer Patricia Welch. Patricia, who has performed all over the world including Broadway just killed with a fabulous opera number, "Sempre Libra," which got a standing ovation from the enthusiastic crowd. This was followed by a beautiful "Summertime" and then the host teamed up with her on "If I Loved You."

Grant stayed on stage and did a great "Danny Boy" and "Who Can I Turn To" before introducing another singer from the audience, his wife Poupee Boccaccio. She is a well known artist, actress and singer who came on stage and sang "Besame Mucho" to a surprised audience. Terrific touch!

The concert was produced by Joe Corosh and Griffin and coordinating producer / director Larry Hart. The sound, lighting and staging was excellent. There were 21 various musical selections ranging from Pop to the Classics with all the stops between. It was a wonderful 90 plus minutes and truly most enjoyable.

What makes it tough, however, is when you have to four-wall (where the producers pay for everything) such a production. This not a cheap show by any stretch of the imagination. The orchestra alone is very costly. But Grant and his fellow producers gave their best, and the audience appreciated every moment! It's about time entertainment buyers forget the word Four-Wall
---
GRANT GRIFFIN IN CONCERT
If you're looking for an inexpensive night out and, want to listen to some beautiful music then there's only one place to be on Tuesday, March 8th and that's The Orleans Showroom where the Annual Grant Griffin in Concert show will be staged.

What's so darn good about this show is it's not just a man and his music. It's a man and three dynamite ladies performing about 26 songs ranging from the Classics, Latin and Broadway to pop with many stops between.

The three ladies, all stars in their own right, will each be paired with Griffin in a special duet pertaining to their specialty. Patricia Welch, who recently completed a concert tour with Robert Goulet, will perform two beautiful classical numbers. Michaelina Bellamy, who stars on a regular basis at the Sahara Hotel, will sing two fabulous Latin arias. Jeneane Marie, who has become a legendary icon of our little village (having worked just about every hotel in town), will do two popular songs.

Another great thing about this particular show is when was the last time you heard or saw a 26 piece concert orchestra? Very rare these days my friends. Lon Bronson will conduct the orchestra with Bob Rozario featured on the piano. The show is staged and directed by Larry Hart and is produced by GPG and Joe Corosh.

And, who is Grant Griffin you may ask? He is considered by many as one of the finest lyric baritones in the world, with a career that has spanned over 40 years. His ability to sing music from Opera to Broadway to Pop has brought a new dimension to the concert stage. Grant is a "singer's singer" there's no question about that. He has done Presidential Command performances and for the Royalty of England and other European heads of state. Grant and Las Vegas are old friends - having first appeared at the Sahara Hotel in 1956. He eventually went on to star in "Casino De Paris" at the Dunes Hotel.

"In order for this particular show to work, each song must be carefully thought out. Each singer, including myself, must perform and interpret the music in their own style," Griffin explained. "This show spans eons of time and is like an art gallery filled with beautiful paintings. The three ladies are my crown jewels in the paintings."

Showtime for Grant Griffin in Concert, featuring Patricia Welch, Michaelina Bellamy and Jeneane Marie is 8 pm. at The Orleans Showroom Tuesday March 8th. Tickets, priced at $39.95 are available by calling (702) 365-7075 and can be purchased the night of the performance.

THIS AND THAT QUICKLY: It's only two weeks until the "Boys of Thunder" invade our little village and the Las Vegas Motor Speedway. Kurt Busch, who is defending his NASCAR NEXTEL Cup Championship, showed his mettle last Sunday at Daytona, when he finished second behind Jeff Gordon. He could've tried to pass him on the last lap, but settled for a sure finish rather than go for broke, thereby showing he has learned to be patient. I believe our local lad will show a lot of class this year and become a good champion. His first couple of years were rough, but if he has learned anything it's to be a little less demonstrative and be more gracious. It's not fun to be booed every time one is introduced before the start of a race. Gordon used to be the recipient of such welcomes. While on the subject of NASCAR look for The Orleans Racing Team to capture the Craftsman Truck Series Championship this year. Why? Brendan Gaughan is back in the series and in charge of his team. And Brendan does not like losing. He would have been the Champion for the 2003 season, if it hadn't been for an accident during the waning minutes of the last race of the year. Oh, well, another year and some new trucks. By the way I do not believe there are any tickets left for the NASCAR weekend that gets underway with qualifying on Friday March 11th. But there just might be a few scattered singles remaining. If you call (702) 644-4444 they will be able to help you...

Bob Anderson did a magnificent job of entertaining over the last weekend at the Summerlin Library Theatre. A lot of his buddies turned out to watch him do his own thing as only he does - Rich Little, who is without question one of the best impressionists in the business, was there as was Clint Holmes, Frankie Randall, Nelson Sardelli, Grant Griffin, Buddy Greco and Leslie Anders to name a few...

Well, gang, that's it for another week.

I'm outa here!

CONTINUE ON TO...:
>It's The Norm Article Archives
>Las Vegas News - "Heard Around Town"
>Las Vegas Leisure Guide

---
MARLENE RICCI
January 28, 2005

Went to the Riviera the other evening to join with a group of friends and entertainers to bid farewell to a wonderful friend, Marlene Ricci. Ms. Ricci was winding down a three year engagement of performing in the Le Bistro Lounge, where she held forth singing some of the best songs ever written.

Ms. Ricci, if you don't already know it, was a protégée of The Man Frank Sinatra. At the time of her discovery she was working in a casino lounge at Lake Tahoe when a very close friend of Sinatra's spotted her. He told her that one way or another he would get The Man to see and hear her. A few months later Jilly Rizzo kept his word when she was appearing in the lounge at the Aladdin Hotel and Sinatra was at Caesars Palace. A section of the lounge had been roped off prior to her last show that evening. She received a call backstage from Rizzo that he was on his way with some friends and could she hold the show for a few minutes. Well, gang, that was the beginning of a fabulous career for a young lady who has tons of talent and always has time for her friends.

This was one of those special evenings that rarely happens anymore in our little village: friends filling an audience to say goodbye to a nice person. None of us had to be there, but we were! We wanted to be there out of respect for not only her friendship but to listen to her sing, joke around and hear her laugh. And we got all three!

Her band, consisting of six fabulous musicians (including Sheila Marie on violin) and a backup singer were really on their mark this evening. Unfortunately I did not get all the band names (sorry gang). The first song she presented was a fairly new one titled A Thousand Miles and was a great way to start the show. She followed that with a series of songs including Under the Boardwalk, Landslide featuring the violin and Tapestry. As the star changed into another fabulous gown Ms. Marie did a violin solo that was absolutely out-of-sight. The song Evolving Rocks was composed especially for her by Ms. Ricci, and is a mix of classical, pop and jazz. Violin players rarely get a chance to shine in a show (unless they are the star). Musicians (all of them) spend years learning how to play that note just right. And, let me tell you, this gal can play the heck out of that composition: it's really a difficult instrument to play and when done right it is fantastic. Ms. Marie did it right!

Ricci's rendition of Time to Say Goodbye sung in Italian was just beautifully presented. The closing song for the evening seemed just right, Troubled Waters. She'll be back in another room at another time and I'll be there along with all her friends. Incidentally, there were a lot of celebrities in the audience: far too many to name lest I miss one.

I would like to take this moment to say a very nice man left us Sunday. Johnny Carson, who like everyone has said, put more people to sleep and very possibly even increased the chances of having more children brought into the world, will be greatly missed. As many of you know I worked for the Del Webb

Corporation for a few years when Johnny was starring at the Sahara Hotel. I was not a close friend, but I had met him and he knew who I was. He was always a gentleman to everyone around him and was not known to ever have thrown a temper tantrum because something was amiss. I remember also his sitting in the back of the lounge inside the Sands Hotel (in the 60's and 70's) watching Bernie Allan do his German stick and laughing his butt off. He also was there whenever Louis Prima was performing. He will be greatly missed.

As previously mentioned Minnie Madden and her CallBack News will be staging a second event for entertainers at the Golden Nugget next month. The first was for adult entertainers of every type, including models, etc. This one, however, will be exclusively for children, teens and young adults ages 5-21. The date selected for this very special event is Saturday, February 26 from 10 am. to 6 pm. The Entertainment Expo for Kids will feature workshops, demonstrations, and includes a trade show for parents and children desiring to learn more about the various disciplines of the world of entertainment. The Expo will be free to the public and a minimal fee for some of the workshops will be charged for materials. A talent showcase will be held throughout the day in conjunction with the Expo that will feature local performers who will be evaluated by nationally recognized agents and studios seeking to discover that next star. For further information contact Randy Urgola at (702) 891-9222 or visit www.callbackexpo.com.

THIS AND THAT QUICKLY: Bob Anderson who now has his own theatre in Branson will be making a very special trip back to Las Vegas in February. Bob, who last appeared at the Stardust Hotel, will be doing his usual impressions but, this time, will be featuring his own voice more. The Summerlin Library Theatre will be the site for this show with the dates set for Friday-Sunday, Feb. 18-20. If you would like to spend An Evening With Bob Anderson then make your plans now and call the box office at Summerlin for tickets priced at $24.95 plus tax. Vince Falcone and his trio will be featured all three evenings. This is a must see show if you like to hear those great oldies but goodies, plus many of the popular new sounds. And, oh, yeah, you never know who you might hear or see on that stage... Grant Griffin is finalizing his plans for his annual concert at the Orleans Hotel, Tuesday March 8th. As usual Griffin has signed three of the best female singers in Las Vegas to perform with him: Patricia Welch, Jeneane Marie and Michaelina Bellamy. Tickets and information may be purchased at the Orleans Box office. Folks this is a great evening of beautiful music ranging from Opera to Pops to Jazz and one you'll not want to miss... The 16th annual Contemporary Arts Collective Juried Show will be held beginning March 19-April 9th. There's a top prize of $1,000 for the Best of Show. To enter, artists are requested to drop off (only two pieces) their artworks on March 8-11 from noon to 4 pm at the gallery located at 101 E. Charleston Blvd. suite 101 inside the Arts Factory on the corner of Main street and Casino Center. I will be entering two of my sculptures...
---
July 21, 2005
Stopped by the other evening to catch up on what's happening at the new "IN" nightclub on Sahara - Steven David, named after its owner. We first encountered the owner / singer when he was in a show at Boulder Station and really enjoyed his style of singing - he's a crooner the likes of Sinatra, Bennett, Cole and Como. Anyhow he has taken over the location where the "Plush Horse" used to reign supreme in years past. The changes are many and all for the good. Besides wonderful food (the filet is like butter) the entertainment is fantastic. See, David believes in allowing anyone with talent to get up and entertain, all except yours truly (who definitely has no talent).

His basic band consists of Larry Millonzi on piano, Rick Morano on sax, Benny Bennet (83 years young) on drums and Chuck Kovac on bass. But one never knows who will stop by and sit in with their instruments or voice. This particular evening Poupee Boccaccio got up and sang (she was wonderful). Genevieve Dew guested with a hot "Kansas City" and "L.O.V.E." and was followed by Grant Griffin who used that big voice of his to entertain everyone.

THIS AND THAT QUICKLY: As usual Steve & Eydie had the Stardust filled to the rafters during their engagement last week. You know (and I've said this previously) they just get better and better (like a fine wine) every time we get to visit with them. One of the things they do (which is rarely done by anyone) is to use the runway that circles the room. It's a time when they get to chat with each other about this and that (and we get to eavesdrop) as they walk the ramp. The film which opens the show has been very nicely revised and updated and truly sets the mood for the next 90 minutes. All I can say again is to repeat, what I've always said about these two great entertainers - You must go see them the next time they stop by the Stardust Hotel...

The CAST held its monthly luncheon at its new location, The Front Door on Paradise Road. Linda November (the lady who created easily more than 2,000 television and radio jingles) and her talented husband, arranger, conductor Artie Schroeck were responsible for entertaining the SRO crowd, and did they entertain! Without question the new location, the great food and the entertainment made this particular luncheon one of the best ever!... The above mentioned Genevieve was the entertainer for last week's mixer (Wednesday) and Thursday at the Stirling Club and as is her forte - she killed! Her "Funny Valentine" is one of the best ever and "On a Clear Day" is a topper. Some of the guests during the two nights were Rita & Caz from Harrah's, Gale Steele from the Clint Holmes Show and Avis who imitates Tina Turner, etc. Entertainment Director Kelly Clinton has really got the room working and her many friends are quite proud of the job she's doing... While on the subject of the Stirling Club many entertainers turned out to wish "The Purple Foxes" a heartfelt thank you and a bon voyage as the elite Marine Special Helicopter Squadron returns to Iraq...
---
January 7, 2005
MICHELLE ROHL-JUSTICE, BOB ANDERSON, & REGIS PHILBIN
Well, gang, went to the Stirling Club inside Turnberry Place the other evening to see and listen to a very special friend, Michelle Rohl-Justice who was the guest star for the mid-week mixer hosted by Kelly Clinton with the Howie Gold Band. Unfortunately the public is not invited, but if you're a member or know a member ask for an invite. It's well worth it.

While there I ran into good buddy, Bob Anderson who was in town to do a commercial and some other business. Bob, as previously mentioned, will be performing at the Summerlin Library Feb. 17-20 along with the Vince Falcone Band. This evening he got up and did a couple of numbers including his great impressions of Sammy Davis, Jr., Dean Martin and of course Tony Bennett. Sitting at the same table were the perfect hosts, The MacDonald's along with their friend Jean Hornnes of Minneapolis, who was in town for the CES show. Bob makes his home now in Branson where he has his own showroom. This is my thought and mine alone: I believe he deserves a room of his own right here in our little village and not one where you have to four-wall! He, more than anyone, has paid his dues as a talented singer and impressionist. Why is it that all the great talents have to work out of town and get little recognition in their hometown? Oh, well, what can one say or do?

Back to Ms. Justice. What a talented young lady. Michelle has been working the various Las Vegas showrooms for a number of years. Most recently she was in the Clint Holmes Show at Harrah's as a featured singer and will be going into the Legends in Concert show at the Imperial Palace later this month. Gale Steele, who is the above mentioned Clint's sister, got up for a super-fine rendition of "I've Got to be Me." She is now featured in her brother's show. Speaking of the Big Guy he looked really great as he sat and watched Michelle and his sister sing. Holmes and his best pal / conductor, Bill Fayne are working on a completely new show for debut in February. He told this writer that he's looking forward to returning to Harrah's stage soon. As everyone knows he recently underwent a colon cancer procedure and came out smelling like a rose. Can't wait to see the new show.

While on the subject of The Stirling Club, there is an event taking place on January 15th that I think is super. Captain Bill McKelvey, an airline pilot and Turnberry resident, is hosting a special going away party for his cousin's Special Force's Squadron "The Purple Foxes." The party (again you have to be a member of the club or be invited) will kick off at 9 pm. Ms. Clinton (she's the club's entertainment director) has reached out to her buddies to drop by and entertain: Holmes, The Scintas and Gordie Brown to name just a few. The Marines are on their way back to Iraq and this special party will go far to lift the spirits of all the men, according to Purple Foxes lead pilot, Captain Philip Peache.

THIS AND THAT QUICKLY:

Steve Lawrence & Eydie Gorme return to the Stardust Hotel and the Wayne Newton Showroom for a four night engagement beginning Thursday, January 12-15. If you missed them last year at the Stardust, then you owe it to yourself to see them this time around. They are simply the best! If you're not in a happy mood when you get there, I promise you'll be smiling and humming a song or two as you leave the showroom. Tickets usually go very fast for this show... The CAST, as previously mentioned, has moved it's monthly get-together to "The Front Door" on Paradise Road just before you get to Tropicana (on the right side of the one-way section). This month (Monday, Jan. 17) the audience will be treated to a very special luncheon hosted by owners, Eric and Penny Zimmerman. Entertainment will be extraordinary because two great entertainers have donated their time to make sure this new venue gets off right: Composer Artie Schroeck and his wife, the first lady of jingles, Linda November along with a seven piece orchestra will be swinging. The charity event (this is how they raise funds for taking care of those in need) is open to the public. Call (702) 242-1222 for information and reservations... Television star and entertainer, Regis Philbin will make his Golden Nugget debut next Friday (Jan 14-15) in the Ballroom. Philbin, who co-hosts a daily chat fest, "Live with Regis and Kelly" (locally on channel 13 at 9 am.) with actress Kelly Ripa, is a multiple Emmy Award winner. Tickets will go fast for this one and are priced at $100.00, plus tax. Call (702) 386-8100 for information and reservations... Las Vegas Motor Speedway has come up with a great ticket for the March Nextel Cup race: a limited number of passes allowing the purchaser to stand on the speedway surface - at the start / finish line - during all the pre-race activities, including driver introductions, prior to the start of the race (like us media people get to do). These limited passes are available and will be sold on a first-come basis for $75.00 in addition to a regular ticket purchase. The Boys of Thunder will be at the speedway beginning Monday, Jan. 31 for a few days of practice. Grandstand seating will be open free of charge to the public as race drivers prepare for the up-coming Cup and Busch season...

Well, gang, that's about it for another week. I'm outa here!


---
September 24, 2004

HARVEST MOON DANCE & CHAMP, TRUCK AND CLASSIC RACES

There's a showroom in Las Vegas that is nearly as old as the world famous Strip. It's the last of the great Vegas showrooms, where some of the best entertainers in the world walked or danced on its boards. The Stardust Hotel Showroom, now named the Wayne Newton Theatre, is a beautiful room and was designed with only one thought in mind--the audience.

Last week I mentioned the fact that I would be attending the Steve Lawrence and Eydie Gorme Show at the Stardust. Well, to be honest, I did a little more than merely mention it that's for sure. Let me tell you one thing for certain. I'm very glad I did not miss Friday's performance. It was magical!

Steve and Eydie are nearly the last of those gentlemen and ladies who actually helped to make the title "Entertainment Capital of the World" a reality when it really meant something. They are without question (in my mind and the SRO crowds) the Honest-to-God Royalty of Las Vegas entertainers. Each time they return to the Stardust (this was their second engagement) it almost takes knowing someone in the Boyd organization to get a ticket. And, what a show! Its two hours of beautiful music ranging from Broadway, the movies and a few of their hit recordings thrown in. These two wonderful entertainers know what the word actually means: to entertain and not be boring! Steve is a jokester of the first caliber and loves to have fun on stage. What is really neat is the opening: 15 minutes of film highlighting brief moments in a career that has spanned nearly 50 years.

I've said it before and I'll repeat it once again: Old is not old unless one had no lasting talent to begin with. Steve and Eydie have proven that quality is what matters to an audience, not the age of the performer! Entertainment buyers should wake up and bring back more of the great entertainers who once graced our stages. They seem to be in demand in cities all over the world, but not in the city they helped to make famous. It's a shame that only the Stardust, Orleans and Suncoast seem to realize the value of the icons from the past.

When was the last time you attended a Harvest Moon Dance? Heck, I can't remember that far back. Anyhow our local organization THE CAST is presenting just that at the Sahara Hotel this coming Monday night (Sept. 27th). Members and non-members are invited to attend and have a ball. The Buddy Greco Big Band featuring Buddy and Leslie Anders will be providing the music. And what a line-up of special guests appearances: Frankie Randall, Freddie Bell, Steve Lippia, Michaelina Bellamy, Tony Sacca, Mark Giovi, Bobby Brooks, Lt. Governor Lorraine Hunt, Dennis Bono, Linda November, Artie Schroeck and the Master of Ceremonies is Ron Garrett. It all gets underway at 8 pm. with tickets priced at $29.95 for members and $34.95 for non-members. Tickets will be available at the door or by calling (702) 737-2878. Admission includes two cocktails and a dessert buffet.
---
August 27, 2004
FEVER, LEGENDS & LORETTA ST. JOHN
Went to see and listen to Lezlie Anders and Buddy Greco perform in their production of "Fever" at the Judy Bayley Theatre on the campus of UNLV the other evening. The show is a work of art! It is a tribute dedicated to a fabulous lady of music: Ms. Peggy Lee. I realized that Ms. Lee was a terrific performer, but what I was not aware of (which is part of the narrative during the show) that she was an inventor, a major song writer, a devoted wife and of course an accomplished actress-having been nominated for an Oscar her first time out. Can you remember what movie and who starred and directed in it beside Ms. Lee? Answer at end of column!

During the course of the 90 plus minute show you hear Ms. Anders sing some of the more famous songs and a few obscure ones, which were either composed by Ms. Lee or made famous by her. The show starts out with "Why Don't You Do Right" followed by "It's a Good Day." Anders leaves the stage to her partner Buddy and his trio to perform a Dave Barbour medley (Greco just gets better every time I see him) and upon her return after changing into another beautiful gown (does this at least five or six times during her performance) Lezlie swings into a group of songs including "He's a Tramp." She is assisted by a group of dogs from the Nevada SPCA No Kill Sanctuary (it receives a portion of the proceeds). "Mr. Wonderful" and "Fever" are in the next set with Buddy also performing "I Love Being Here With You." All in all, gang, you get to hear some fantastic music spanning almost six decades as played by the Benny Goodman Tribute Band and wonderfully presented by Buddy and Leslie. Together there are some 24 plus songs performed on stage. And, oh, yes, less we forget the great voices of Cary Grant, Frank Sinatra, Louis Armstrong and Jimmy Durante in documented statements as performed by friends and impressionist Bill Acosta, Bob Anderson and Babe Pier.

I've lived in this little village for over 39 years and have seen the best perform during those years. I have also watched some great shows and been witness to some very bad productions too. "Fever! The music of Ms. Peggy Lee" belongs in a permanent home on the Las Vegas Strip, not at UNLV! It's a beautifully produced musical by two professionals at the top of their game. I'm not saying this show belongs in a huge room like "Mama Mia" or the new show at the Paris Hotel, but a moderate sized room with an entertainment director who believes in it and will give it the proper promotion to make it a Las Vegas hit. The show closes on schedule this Sunday afternoon. Tickets are priced at $30 and $25 and reservations can be made by calling the UNLV box office.

Who can "Be a Legend?" The Candy Man Can! That's exactly what happened the other evening at the Imperial Palace when Lambus Dean took home top honors in the monthly "Be a Legend" Celebrity Impersonator Karaoke Contest. He portrayed the late, great Sammy Davis, Jr. to near perfection. There were a total of 14 impersonators competing for the $500 top prize and a chance to audition for the "Legends" show (a staple at the I.P. for over 20 some years). Jon Bon Jovi impersonator Larry Atello claimed the $250 second place money with Sharon Johnson picking up third place money with a very nice rendition of Ms. Diana Ross. Karaoke is now a nightly thing at the Imperial Palace and the contest is held every third Thursday of a new month.

A good friend and a terrific singer, Loretta St. John will be performing tonight (Friday Aug. 27) in a FREE Jazz Concert at Justice Court Park in Henderson. Loretta and her band comprised of Ed McKeta on piano, Tommy McDermott on guitar and Clyde Duel on drums will do two 45 minute sets. Some of songs you'll hear include "Here's That Rainy Day", "Gone With the Wind", "But Not For Me", "Dearly Beloved" and "The Very Thought of You." This is a lady who has performed with some of the best in the world including Billy Eckstein, Della Reese, Frankie Avalon, Bobby Vinton, Frankie Randall to name a few. During her illustrious career Ms. St. John also was a backup singer for Bobby Darin and Wayne Newton and also has performed all over the world as a soloist. Loretta has been a regular performer in Las Vegas for a number of years, but one thing she learned early was never give up your day job (joke). During the day she is a loan officer for Nevada Home Loans, Inc., on West Flamingo. The first set kicks off at 8:00 pm., and be sure to bring a blanket or lawn chairs to sit on as it is outdoors. Should be a fun evening!

Well, gang, more news next week. Oh, the answer: Pete Kelly's Blues in 1955 starring Jack Webb who also directed the movie.
---
Las Vegas artist is a man of many talents
Norm Johnson enjoys auto racing, sculpting
By ELLEN ZIEGLER
VIEW STAFF WRITER

Norm Johnson might represent the 2003 version of a Renaissance man. A race car driver, journalist, public relations representative and bronze sculptor, he is equally dedicated to the written word, the careful stroke of his hand and an adrenaline rush. His bronzes, some of which are on display in the Markman Gallery inside the Rio, are the newest passion of the three, but Johnson still makes time to enter races in his Chevrolet Camaro Z-28.
His interest in bronze work began when he was young, but didn't develop until later in life.
"When I was in junior high, I fooled around like all kids did with clay," he said. "There was a contest which you could create anything to do with depicting California, and I did a bear and won third place in my school. After the Korean War, when I got back I went to San Diego Junior College and took up journalism and art. I learned a little bit about sculpting, but I never actually had any formal training."
Despite his lack of instruction, Johnson's work has been compared with well-known artist Frederic Remington. The inspiration for many of his pieces such as "God's Hand," which depicts a large hand seemingly emerging from water holding a dolphin, comes from dreams.
"My inspiration for doing a piece usually comes to me in my sleep," he said. "I'll do it in clay and then I'll think about it. I'll make changes and it'll take me a month to finish it because I'm tweaking it all the time."
Johnson said people are starting to accessorize their homes with bronze statues a little more often because they are three-dimensional and one-of-a-kind because of how they're created.
"I make a mold, do a wax from the mold, and then I really fine-tune the wax so each piece is unique even though it comes from the same mold, by the time I get through with it there's a slight difference. I think people like them because they're three dimensional, I like that kind of art better."
Johnson said his pieces range from about $700 to more than $1,000, depending on the piece.
"If you go to the gallery it's going to be more expensive," he said. "I've made arrangements with an online gallery, imageslasvegas.com, to show my work."
Although each bronzed item takes a lot of time to prepare and complete, Johnson said he makes time for the car races, and said he does public relations for some Las Vegas performers. He said he's not holding his breath waiting for the bronzes to allow him to be focused only on their production.
"I still do some road races, but primarily open road racing," he said. "It's for fun, it's an adrenaline rush. I do about three or four per year. I still do public relations for Soul Desire at New York, some members of Cast, and Marva Scott who, opens as Donna Summer in Legends in Concert. I still enjoy doing public relations for now. It seems so many artists only become wealthy after they die, anyway."

---