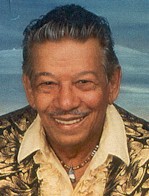 Benny Bennet, started his musical career in the Boy Scouts Marching Band when he was 8 years old. In High School he played Trumpet and Drums with the Orchestra, then played with many famous jazz artists such as Coleman Hawkins, Miles Davis, Dizzey Gillespie, Charley Charistian, Elmo Snowden, Billy Taylor and Machito's Latin Band. After 4 years in the United States Air Force, he obtained a BA Degree from the Conservatoire National de Musique in Paris, France on the G.I. Bill. During his stay in Europe, he recorded with Don Byas, Roy Eldrige, James Moody and Clifford Brown.
After forming his own orchestra, he traveled throughout Europe, Africa and the middle east, then was engaged as Conductor of the orchestra at the Moulin Rouge in Paris, France for 3 years. At the same time he signed his first contract with Vogue Records in Paris and recorded over a dozen albums. While in Israel in 1957, he was awarded a solid silver Bible encrusted with precious stones and dedicated by Moshe Walling for outstanding performance in morale building of the Israelian youth and received the Honorary Membership Card from the Zionist Organization of America House of Tel-Aviv.
Benny owned and operated his Nightclub in one of France's most famous Ski resorts in Cour-Chevel-1850 "Le Tremplin" in 1962 and 1963. He then returned to the United States in 1967 and worked in the Waldorf Astoria in New York as a waiter, Captain, Assistant Maitre'd, then in the Empire Room as percussionist in the Show Room Orchestra. After playing the Broadway rock show "The Me Nobody Knows", he did various engagements in the New York Mountain Resorts, then joined Barry White Love Unlimited Orchestra, traveling throughout the United States and Canada. Since his arrival in 1975 to Las Vegas, he has played the "Lido of Paris Show" in the Stardust Casino and various Lounges and Nightclubs. In 1977 he formed his Latin Jazz Orchestra which comprise the finest talent's of Vegas and performed in the Jazz Room, El Jardin, Sundancer, El Bocasio, Bandido's, Las Margaritas, Latin Quarter and various for the Las Vegas Jazz Society.
Benny Bennet, performs every Sunday at 3 to 6pm with his 19 piece "Salsation Jazz Orchestra" and every Monday night from 9pm on with his 10 piece "Latin Salsa Band" at: Steven David's Club, 545 E. Sahara Ave., Las Vegas, Nevada
Benny Bennet
(702) 434-7336
Born September 20th, 1922 in New York.
Honorable Discharge: USAF 1946 - 2 Bronze Service Stars - EAMET Ribbon - Good Conduct Medal - Victory Medal - Meritorious Service Unit Plaque
Education: Aviation Institute of Technology, Diploma - BA degree Consevatoire Nationale de Music Paris -
Profession: Percussionist - Arranger - Conductor
Language: Fluent in English, French, Spanish and is knowledgeable in German and Italian.