Tuesday, September 14, 2004
Copyright © Las Vegas Review-Journal

SEEN IT ALL: Sweet Smell of Success

After ups and downs as an actor, Tony Curtis focuses his energy on art

By KEN WHITE
REVIEW-JOURNAL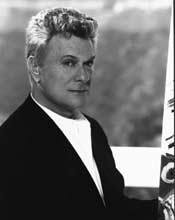 Tony Curtis will receive the Nevada Entertainer-Artist Hall of Fame Award tonight.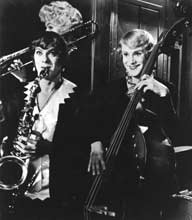 Among the classic films of Tony Curtis is Billy Wilder's 1959 comedy "Some Like It Hot," with Jack Lemmon, right.

Tony Curtis bent down on his 79-year-old knees holding an imaginary shoeshine rag between his outstretched hands.
He's back in time to the 1930s when he was Bernie Schwartz, the young Jewish son of a Hungarian tailor in the Bronx, N.Y.
The Schwartzes didn't have much money. One day, Bernie's father built him a shoeshine box and gave him a rag and some polish and said: "Go shine some shoes. Make some money for yourself."
"So I schlepped all over Manhattan and shined shoes for a nickel or a dime," Curtis recalled, kneeling in the living room of his home that overlooks a golf course and the Las Vegas Valley.
"All I remember as a kid was here," he said, leaning over, looking down at the floor. "That had an effect on me. With my head low and doing my job, I felt like nobody. You were nothing but an incident on the street. It made me slower in other areas. As I got a little bit older, that shoeshine boy never left me. I always felt that to please you, I'd have to get down and stroke your shoes."
For a man who didn't want to catch anybody's eye "because if I did I would see hostility in the eyes of a lot of these men looking down on this kid shining shoes," Curtis did more than overcome. He became one of the top actors of the 1950s, with roles in the classic Billy Wilder film "Some Like It Hot" and other classics, including "Sweet Smell of Success," the Oscar-nominated "The Defiant Ones" and Stanley Kubrick's "Spartacus."
He will receive the Nevada Entertainer-Artist Hall of Fame Award tonight at the University of Nevada, Las Vegas, for his achievements in acting and fine arts.
Curtis said he grew up with the stigma of being a Jewish boy living in what can only be called anti-Semitic times.
He also overcame a lack of education, having never attended high school.
"I never had an education, other than what I picked up all over the place," Curtis said. "I learned a little reading, writing and arithmetic. That's just the way it was. I would have loved to have lived in a small town and gone to a good school and had parents who appreciated me. My mother abused me a lot, slapped me around. My father was a depressed man, always sewing. I had nobody to look up to. These were the enigmas, the holes in the world for me in the '30s and '40s."
He enlisted in the Navy at 17, and counts it as an important experience in his life. "I saw the world. Up to that point, what did I see? The subway, people's shoes under me, jumping on the back of trolley cars, stealing stuff from 5- and 10-cent stores. Climbing on elevator trains, physically trying on anything and everything, trying not to get hurt. I was a good athlete. In a way, that prepared me for a movie career."
Curtis was seen by a Universal Studio talent scout in a production of the play "Golden Boy." He was signed to a seven-year contract, and his name was changed to Anthony Curtis. He made his first movie in 1948, but had some difficulty adjusting to the camera and other actors. He had the handsome movie-star looks -- it was the inability to make eye contact that gave him trouble.
"The first couple of directors asked: `What's he looking at? Hey kid, look at me.' My eyes would wander. I didn't want to make eye contact. But I got over that in a hurry. I saw what they were getting at. I started to like that work. I was able to be anything I wanted. If I played a gangster in a movie, I was a (expletive) gangster. If I was a lover, I was a lover. There was nothing left of the girl when I got done."
His Bronx accent also created problems. It's still there in his voice, but in the movies he managed to modify it enough, with the help of a speech instructor, so that it didn't matter.
"Oh, sure you knew it was me (on screen). But all of a sudden something happened, you're not sitting there watching Tony all through the movie. The movie had a way of enveloping you, and the next thing you know you're watching images of (seemingly real) people."
After a string of so-so movies in the early 1950s, Curtis got himself loaned out of Universal Studio for more ambitious roles.
"I was privileged that I got certain movies to make. For `Trapeze,' there was no guy better looking or in better shape to play the acrobat. I loved it. I was perfect for it. `Some Like It Hot,' `Sweet Smell of Success,' `The Boston Strangler' -- each one of these people, I brought some little element that made it stand out."
He enjoyed the fame and the women that came with it. And he liked putting on reporters, especially female ones, with outrageous quotes such as: "What's the secret to a long and happy life? Young women's saliva!"
But Curtis said he began to sour on people during the period of his greatest success in the late 1950s.
"I was marrying a lot," he said. His list of wives includes Janet Leigh -- who is the mother of his actress daughters Jamie Lee Curtis and Kelly Curtis -- Christine Kaufmann, Leslie Allen, Lisa Deutsch and current wife Jill Vandenberg.
And he did several insignificant movies such as "40 Pounds of Trouble," "Goodbye Charlie," "Sex and the Single Girl," "The Great Race," "Boeing Boeing" with Jerry Lewis, "Don't Make Waves" and "Not With My Wife You Don't!"
During that period, Curtis became a painter and "partied a lot," he said.
But the urge to do better work returned in 1968 with the chance to play Albert DeSalvo in "The Boston Strangler."
His preparation for the role included thinking and acting like a man devoid of emotion.
"The only way I was able to play him was to divorce myself from anything and everything. Everything I saw was for the first time. I didn't make any recognition of anything. I wasn't interested in anything. I paid no attention to anything."
Some advice from Laurence Olivier also helped.
"We were talking about acting, and I said, `Larry, how do you approach a part?' He said: `Clothes make the man. Dress the way you want to look. Dress the character. That will tell you what to do.' He was absolutely right.
"I built a different nose for myself, I wore brown contact lenses, I dyed my hair darker. I wore 25-pound weights around my waist, I wore heavy boots, which slowed me down and made me walk differently."
It was one of his best performances.
But the good roles didn't continue. Curtis, seemingly more interested in art than acting, took roles in "The Persuaders" and "Vega$" TV shows, and continued his self-education.
These days, Curtis said, he's not that interested in acting. "It just eats up too much time and it just ends up as another movie. I've made 140 of them," counting television episodes, which he considers short films.
He has concentrated more on art, constructing his art boxes and painting and sketching in a studio behind his house.
"I've never gotten over it (showing his art). I'm always so pleased when I show something and people say, `You did that?'
"But the ultimate experience is the doing of it."